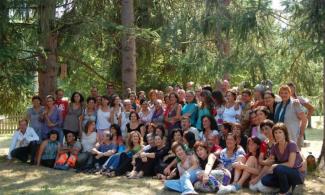 Body paragraph
Amalurra, Basque for 'mother earth', was formed from a meditation group with life coach Irene Goikolea over 20 years ago. Wanting to take their practice further, they bought an old seminary and oriented their lives around making it beautiful and offering hospitality. Fast forward to now, and there are several gleaming buildings, including a hotel, hostel, spa, cafe, restaurant, many spaces for meetings and workshops, and a sweat-lodge next to a stream and extensive gardens. Every niche resonates with aesthetic abundance, and the community has many friends and even two satellite communities elsewhere in Spain. In their pursuit of spiritual wealth, the villagers have created very tangible wealth, which is all the more valuable for being shared. Amalurra introduced Permaculture in their agenda some years ago, but now it is expanding this practice supported by the RIE (Iberian Network of Ecovillages). Amalurra joined the Global Ecovillage Network 2 years ago.
Almost all member-adults have careers in the global economy; money earned is their own, but they pay a substantial rent to their cooperative. In the last year, they constructed a magnificent hall, but circumstances changed, and they had to call on Triodos Bank to make up the budget shortfall. Now indebted for the time being, members are feeling a certain pressure to entice more paying customers to the facility. However, no-one has yet stepped up and volunteered themselves for a sales career.
Many local and regional organisations use the site for cultural and spiritual activities. The villagers have experimented with creating their own activities, mostly with the young, although they have not opened up to WWOOFers. They do want to reach out to northern Europe where the Euro debt implosion has yet to be felt. They want to grow grain and produce fruit and vegetables for guests as well as themselves. Regardless of the imperatives of debt, Amalurra wants to expand in order to manifest its idea of heaven on earth and share it.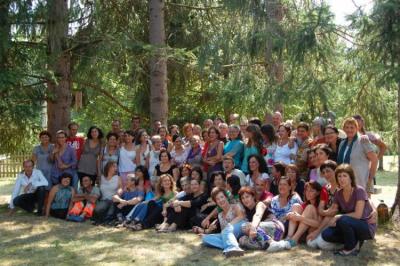 The hotel and conference centre are a business wholly owned by the cooperative. Yet rather than supporting the cooperative, the business barely breaks even as members volunteer substantial hours in gardening, running the restaurant, cleaning the hotel rooms, and everything else. This is not a failed attempt to get a business off the ground, but a commitment to collective participation and a belief in the ennobling function of work. Think of it as a karma yoga ashram. I know that taking joy and meaning from work you choose is an achievement and a blessing, and I see that visitors can feel that difference. Now that a sales position is the most needed job, it looks like an experienced outsider will be needed.
I would like to see some of the villagers quitting their jobs outside and building up the village from the inside as full time employees rather than as volunteers. Much has been invested, but to reach its spiritual potential Amalurra needs to achieve mastery over mundane economics, too.
Go to the Intentional Communities and Solidarity Economics theme page