Body paragraph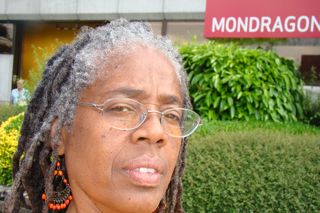 Author's self-portrait outside of Mondragon headquarters.
Five of nine of us touring Mondragon arrive on Sunday in Bilbao, make our way to Mondragon-Arrastata, get settled and find food at the Monte bar a short walk from The Hotel Mondragon where we are staying for the week-long tour.  I fall into bed at about 10:30 (4:30 pm EST), the 12 hour journey and time zone change wearing me out.  Tonight there is no reading of The Kemetian Tree of Life, my nightly fix.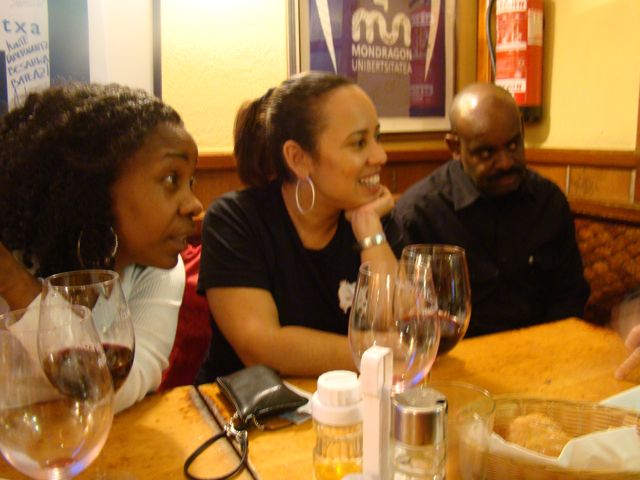 Deborah Bennett, Sol Flores, Sequane Lawrence listen intently as Mondragon's
Mikel Lezamiz tells us about the legends and history of the city at the Monde bar
where we eat dinner our first night in town.
 At 6:30 a.m. (12:30 am EST), the hotel phone rings insistently.  My wake-up call.  I managed to recover my wits, and answer the phone.  I lay in bed for about 10 minutes. I am to meet Steve, a Southern New Hampshire University student, at 8 a.m. so that we can walk to Mondragon headquarters.  I want to see the city in a way riding in a car does not allow.  I think he wants exercise.  My body reminds me that it is a bit stiff - it was 8 hours on the plane from Miami to Madrid alone - and I have not done my Swimming Dragon (a Qi Gong exercise) in two days because of the traveling.  I need the water-like movements that work every muscle in my body and cause my bones to move.  The thought of that inspires me to jump up so I can smooth out the creases in my muscles, so to speak.
I try to rush through the exercises.  I had been taking an hour to perform the 20 rounds which are supposed to take 20 minutes.  I usually do the movement slowly, a body meditation that revives me.  Today although I need it, I don´t have that luxury.  I don´t know how long it takes me.  I don´t have a watch - my cellphone doesn´t work here and I don´t have money for an international card, geez, I don´t know the last time I wore a watch! By the time I shower and get to the lobby it is 8:07.  Steve had overslept, so it´s all good.
With hotel map in hand, we had off for Mondragon.  We get confused at a turnabout (later we realized street signs are on the buildings!) and ask a woman who looks to be in her 40s and appears to be on her way to work.  Amazingly, she is committed to helping us, calling the number for our seminar leader Mikel Lezamiz from the business card I have to ensure we are going to the right Mondragon co-op because there are many.  She personally escorted us more than two blocks to make sure that we don´t get lost through a confusing area.  I was thoroughly impressed with this willingness to go out of her way to help two strangers. This experience will be one of my lasting memories of my trip to Mondragon. While many on the street did not speak or give eye contact -- certainly something I'm used to living in DC -- her actions just heightens my belief in the goodness of people.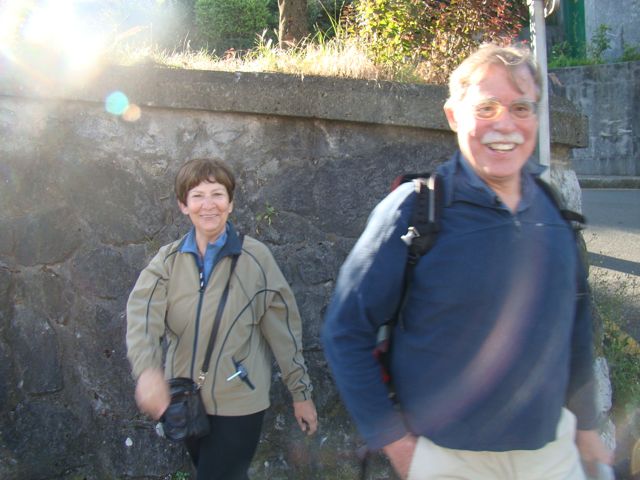 Our smiling wonderful helper, and Steve Snyder.
With the help of another woman, we make it to headquarters and meet up with the rest of our group. Everyone has made it in.  Four people are from Chicago: Sequane Lawrence whose leadership fellowship was the impetus to organize the study tour, his wife, Teresa Prim, both of whom are SNHU alumni, Deborah Bennett from the Polk Brothers Foundation and Sol Flores from La Casa Norte.  Also a part of the tour is Chris Clamp, SNHU professor and Steve Schneider (that´s five of us with a SNHU connection), and two people from Rochester, NY: Rosemarie McKinney, who works with the United Way soliciting the AFL-CIO and other unions, and an Empire State College economics professor, Anne Cobb, who described herself as a mentor.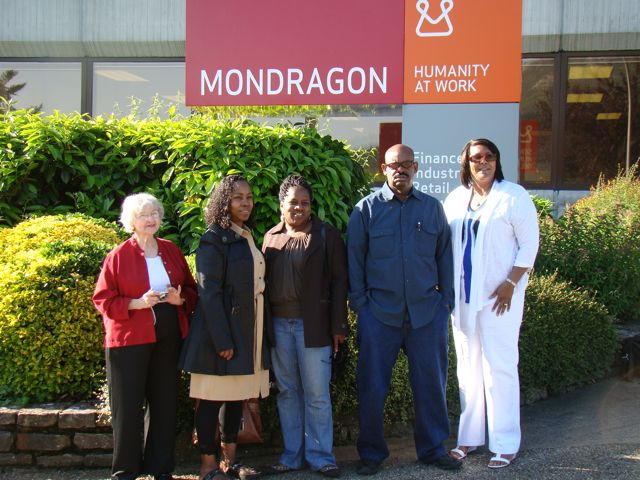 Anne Cobb, Deborah Bennett, Teresa Prim, Sequane Lawrence and Rosemarie McKinney stand in front of the sign "Humanity At Work"
Mondragon's theme at corporate headquarters.
We have all come to learn more about Mondragon, a cooperative complex that has inspired worker cooperatives around the world and which represents a hope for us: a way to do do someting about 30% unemployment in some parts of Chicago and D.C, for organizing juvenile offenders do create their own jobs, to bring more options to unionized workers, to help the poor -- to put into practice more community economic development.
Mikel Lezamiz, Mondragon´s diector of Co'operative Dissemination, tells us that there are 120 cooperatives in the Mondragon complex.  The first one was organized in 1956 under the leadership of a Catholic priest, Father Jose Maria Arizmendiarrieta.  We watched a 14 minute video that left some of us awed about the depth and range of Mondragon´s accomplishments.  They have over 1,000 products, according to Lezamiz. 
Mondragon is a table, he asks us to imagine as a metaphor. The rectangular table top is the 120 co-ops with "high intercòoperation" - working together as supporting each other.  The four legs that support the table are education, social welfare, financing and research and development.  He asks us to think about our own projects and ideas and visualize how they would be doing in the future.  The workers must be educated to do their jobs.  Workers are not laid off, they are sent to other co-ops or their working hours cut.  If they are laid off, they receive 80% of the pay had they been working. The Caja Laboral, a credit union, provides funding and is fed by a 10 percent contribution from the co-ops after their net proceeds.  Innovation is key for survival and that is supported by Mondragon´s 1,500 scientists.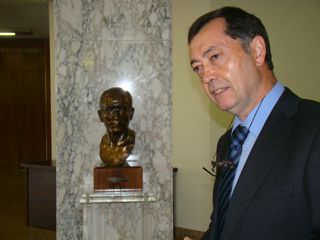 Mikel Lezamiz, Mondragon's Director of Co-operative Dissemination,
stands next to a bust of Jose Maria Arizmendiarrieta and talks to the
group about Mondragon's history.
"This is not a paradise," Lezamiz cautions.  "But it is better than the other companies.  We are now in an economic crisis."
 We toured the Fagor. the original industrial co-op where we saw self management teams in exquisite action. We also witnessed how Mondragon takes care of its workers with ergonomic design of the workstations, four breaks, teams that are responsible to each other and which have a budget and orders its own parts.
We go to see how their principles are put into practice.   One of Mondragon´s principles is sovereignty of labor, which he explains:
"In a capitalist company, labor is a resource, a tool, and in economic terms, a factor of production.  In a cooperative, we try to turn the omelet, or the tortilla.  Labor has the power, and the capital (money) is only a resource, a tool and instrument, a factor of production."
Ok, it´s midnight, and I just turned into a pumpkin.  The keyboard is different and this is making me much slower than usual.  I will write more later, but I wanted to include these news flashes:
· In September, Mondragon will add a new product - The Basque Culinary System. This will be a catering co-op.
· Mondragon is designing the transportation center at Ground Zero in New York.
· Right along with developing energy as an innovation, Mondragon is providing services to the elderly.  (more on this later!)
· This year for the first time, Mondragon has added cooperative education to its university coursework.
Tomorrow we go to the University to hear from the chief of innovation!