Body paragraph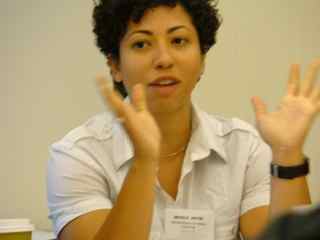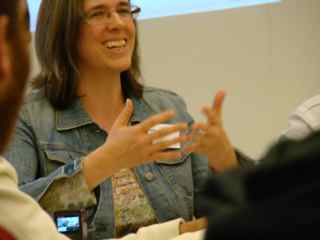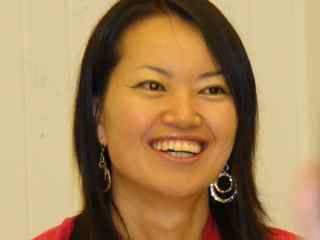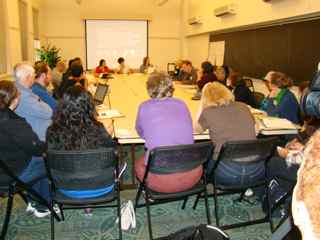 Top left and right:  Michelle Matos and Hilary Abell of WAGES
Bottom left:  Minsun Ji, of El Centro Humanitario; Bottom right: Long view of workshop.  Below: Latinas with translation ear plugs 
WAGES - Women's Action to Gain Economic Security, the San Francisco Bay Area nonprofit developer of green cleaning cooperatives -- gets about a dozen calls a year from people all over the country hoping to adapt what they did for immigrant women to their locality.
One of those calls was from El Centro Humanitario, a day laborers center in Denver. 
"We bugged them so much," Minsun Ji, El Centro's executive director, said.  "We were so desperate.  There were no jobs.  We were really, really desperate." 
Minsun was on the "Raising the Floor for Working Women and their Families:  The WAGES Model for Cooperative Development" panel at the US Federation of Worker Cooperatives conference in Berkeley August 6, 2010.  Also on the panel were WAGES co-founder Hilary Abell, and training director Michele Matos.  The three talked to nearly 50 people about the challenges and excitements of their work creating worker-owned businesses and jobs for women in low paying jobs, using dangerous toxic household chemicals.
Nearly 50 people packed into the room, in extra chairs lined up against the side walls to learn from their knowledge.  Many of them were Latinas, their faces serious as they listened intently to the presentation.
WAGES has created four green cleaning co-ops in the Bay Area in about 12 years, and are working on starting a fifth one in San Jose, WAGES trainer Michelle Matos said.  Co-op members triple their income, and have health, dental and disability benefits and participate in profit sharing and asset building through individual development accounts, she said.
WAGES act as a skills sharing for the co-ops, which they incubate and then provide key services when they are ready to be on their own.
"We've learned a lot; we know the industry," said Hilary.  "Why should everyone have to reinvent the wheel?'
Using the WAGES model, Minsun helped El Centro create Green Cleaning for Life, LLC, an incubator that provides technical support for the workers.
Work had slowed down at the day laborers center to the point where only 3-5 people out of 60 were getting jobs, Minsun said.  "The economic crisis forced us to think about what we were doing as a day laborer's center," she said.  Things got so bad they had to have a food drive for those looking for work. 
They faced many challenges, including funding and having problems with banks who and a manager who did not grasp the cooperative concept, and workers who expected to be paid by the hour instead as owners.  Minsun said they need more training on what it means to be an owner, and the organizers did not want to create an "us v. them" situation.
Challenges notwithstanding, El Centro and Green Cleaning and are also considering other cooperatives offering catering, sewing, and jewelry-making.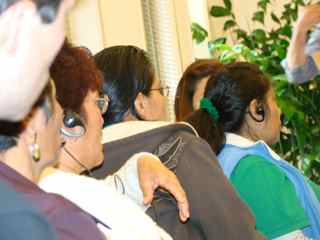 Some workshop participants obviously appreciated the information.   One woman, speaking in Spanish, said that 32 people came to the conference from Pasadena, many from the Magic Cleaners Co-op.  "We want to know what to do about co-ops," she said via English translation.  "We would like to learn more." 
The woman from Magic Cleaners wanted to know how they could find help finding another manager.  An immediate gesture of cooperative sharing took place when Michelle asked her WAGES manager to talk to the Magic Cleaners woman to give her tips for finding a good manager.
Linda Williams, president of the board of the Lagniappe Lifestyle Service Cooperative in New Orleans, said after the workshop that she could identify with that issue of workers feeling like they should get more money without understanding the financial demands of running the business.  
"We are definitely going through this," Linda said.  "She [Minsun] really hit the nail on the head."
Fore more information on WAGES, go to http://wagescooperatives.org/
For more information on El Centro Humanitario, go to www.centrohumanitario.org
For more information on Green Cleaning for Life, go to
http://www.centrohumanitario.org/green%20cleaning%20coop%20flyer.pdf