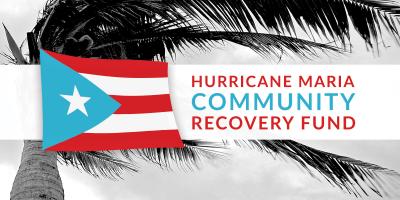 The devastating effects of hurricane Maria on Puerto Rico are still unfolding, but one thing is certain—the island's most vulnerable communities are likely to be pummeled the hardest and face the longest road to recovery.

Low-income communities of color often face the worst destruction and slowest recovery and have fewer resources to safeguard homes, vehicles, and other property.  When the winds die down and the floods recede, these communities are often forgotten by reconstruction efforts, and underserved by insurance companies. 

The Hurricane Maria Community Relief & Recovery Fund will be housed at the Center for Popular Democracy (CPD).  One hundred percent of monies raised will be used to support immediate relief, recovery, and equitable rebuilding in Puerto Rico for the communities hit hardest by the storm. The Fund is governed by organizations like Puerto Rico-based Taller Salud, the G8 of Caño Martín Peña, and other local, grassroots organizations.  The Fund will support organizations working with these hardest hit communities in Puerto Rico.

Ayuda a Comunidades Puertorriqueñas a Recuperarse del Huracán María

Los efectos devastadores del Huracán María en Puerto Rico - combinado con los que dejó Irma - aún están por verse. Pero una cosa es cierta - las comunidades más vulnerables serán las más fuertemente afectadas y se enfrentarán al proceso de recuperación más largo.

Las comunidades de bajos ingresos y afro-descendientes por lo general se enfrentan a la peor destrucción y la recuperación más lenta, teniendo menos recursos para desalojar y proteger sus casas, vehículos y demás propiedad. Cuando los vientos comienzan a cesar y el agua en áreas inundables retrocede, estas son las comunidades olvidadas por los esfuerzos de reconstrucción, y menos atendidas por las aseguradoras.

El Fondo Comunitario para Ayuda y Recuperación del Huracán María fue creado por el Centro para la Democracia Popular (CPD). Cien porciento (100%) de los fondos recaudados se utilizarán para ayuda inmediata para la recuperación y la reconstrucción equitativa de Puerto Rico para las comunidades que sean más afectadas por la tormenta. El Fondo será gobernado por organizaciones como Taller Salud, localizada en Puerto Rico y otras grupos comunitarios. El Fondo apoyará a organizaciones que estén trabajando con las comunidades más vulnerables en Puerto Rico.
Make a donation / Haz una donación
Go to the GEO front page