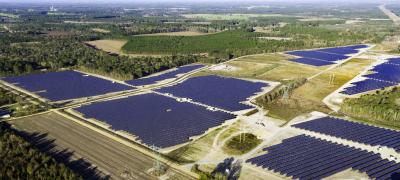 Georgia is a late comer to the solar game, but the state has arrived in a big way. After being forced to engage by pro-solar Republicans on the state's utility commission, Georgia Power began commissioning hundreds of megawatts of solar, which brought the state into the top 10 of solar markets as early as 2013, and Georgia was the third-largest market last year with over 1 GW installed.

However, Georgia's rural electric cooperatives are also getting in on the game. As early as 2001 a group of cooperatives got together to form Green Power EMC, a company to buy power from renewable energy facilities, which back them was largely biomass and hydro.

Today Green Power EMC announced that it has struck a deal with Silicon Ranch for the developer to build four PV plants totaling 200 MW-AC to supply cheap power to 38 of its member cooperatives.
Go to the GEO front page