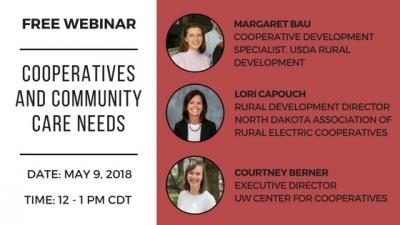 Beginning May 9, the University of Wisconsin Center for Cooperatives will be presenting a webinar series that explores how cooperatives are being used to address a variety of unmet needs in rural and urban communities. Presenters who have worked with local community members to develop cooperative solutions will give brief case studies, followed by a Q&A session.

Who should attend? Economic and community development professionals, cooperative developers, and interested community members.

About this webinar
Many communities find that attracting and retaining workforce talent is hampered by the lack of affordable or available childcare. Supporting the care needs of seniors who are aging in place may also present challenges. Find out how communities in rural Wisconsin and North Dakota are using the cooperative model to address their child and senior care needs.

The series will continue with presentations on:
Cooperatives and Affordable Housing Needs - June 21, 2018
Cooperatives and Business Succession Strategies - July 19, 2018
Cooperatives and Community Infrastructure Needs - September 2018 
Cooperatives and Community-Owned Businesses - October 2018 

All webinars will be held at 12:00 pm to 1:00 pm Central Time. Webinars will be recorded and posted on the UWCC website.
Register for this free webinar
Go to the GEO front page