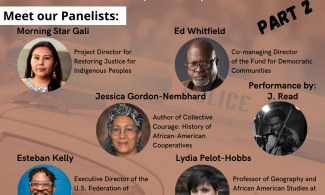 Body paragraph
Join us as we discuss the impact of co-ops in abolition work. This event will kick off our Co-ops Not Cops issue on GEO.
Panelists: Morning Star Gali, Ed Whitfield, Jessica Gordon-Nembhard, Esteban Kelly, and Lydia Pelot-Hobbs
Performance at the beginning of the event by J. Read
Tuesday, June 22nd, 5-7 PM EST.
This event will be held on Zoom. This event is free to attend.