Body paragraph
One of the formative questions of the contemporary worker cooperative movement has been that of who the movement is for.  What group of people are included in the movement's organizations, have access the movement's resources, share and shape the movement's values and the campaigns around those values?  
This wave of cooperative organizing is not lead by either the "barefoot weirdos on the coasts," nor the job-savings strategists of the de-industrializing north who carried the movement during the wave of the 1970s and 1980s, alone.  Some of those people are still here and more active than ever, but aside from a few exceptions, this is not your father's cooperative movement. One of the more practical ways this question has been answered is that "political activism is a necessary requirement for the long-term survival of the worker coop movement," and that the USFWC conference should include organizers working toward a broad range of political and social goals and using cooperatives to get there.  Now, at the 2010 conference, this is really happening. 
On Saturday the schedule was rich with organizers integrating the advantages of cooperatives with a wealth of social justice values and goals; immigrants' rights, women's rights, environmental health, environmental sustainability, community economic development, youth empowerment, and local economics movements are all being articulate as plural goals of the cooperative economy.  The organizers working on these fronts are leading the movement, and trail-blazing new forms of praxis for those who want the movement to grow and mature.
Hilary Abell and Michelle Matos from the successful cooperative incubator Women's Action to Gain Economic Security teamed up with Minsun Ji from the young Centro Humanitario to talk about their different efforts creating green housecleaning cooperatives among immigrant women.  
Ted Howard and Medrick Addison gave and inspiring presentation of the visionary Evergreen Cooperative system and how the goals that cooperatives will play in low-income neighborhood stabilization and economic development.   
Hilary and Ted were then joined by Heather McCulloch to talk about how cooperatives can serve as asset-building tools for communities that have little other mechanism for building a reserve of wealth for emergencies or life changes.  
Jessica Gordon Nemhbard outlined the potential advantages of cooperatives to the informal economy - those "activities (often essential) that fill a void; have no functioning markets or existing markets do not serve a certain portion of the population" but are often unsafe or vulnerable because of their informality. 
Patricia Feraud and Janice Nyamekye of Toxic Soil Busters Cooperative were, of course, poppin', and lead paint be stoppin.'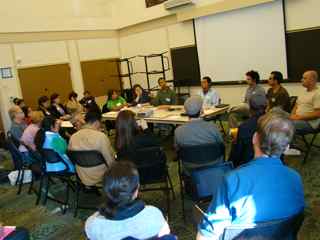 Then in session packed with panelists, Oscar Grande from PODER articulated how the community-building activity of creating cooperatives should be one phase in a cycle of community resistance - where resistance meets creation.  Guillermina Castellanas and Jill Shenker spoke about how the workers in La Colectiva, a marketing cooperative for household cleaners, the organization educates both in business practice and in critical consciousness.  Moises Matamoros from SAJE spoke about organizing cooperatives in South Central Los Angeles, during a time of community displacement.   Lastly Omar Freilla spoke about Green Worker Cooperatives incubation program to green and empower the communities of the South Bronx.  All these speakers were passionate, but an additionally powerful element of this session dialogue was bilingual and interpreted expertly in two directions by the Madison Interpreters Cooperative. 
All of these sessions emphasized that the movement has answered the questions asked in previous years about to what degree social justice is a central goal of the movement.  Cooperatives are not being organized for their own sake, they are being organized by activists with a broad range of social values and with the belief that these models can help achieve these goals.