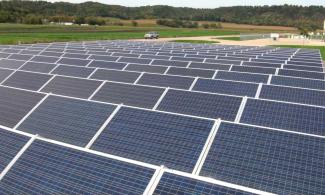 Body paragraph
The 45th President's decision to withdraw the U.S. from the Paris Climate Accord has sounded a clarion call for local governments, businesses, and educational institutions around the world to swing into action. City and state

 governments are stepping forward to do their part in mitigating climate change. It's now time for civil society, the American people, to follow suit and drill down into local environmental resilience-building to enhance community sovereignty.
Mayors of more than 7,400 cities, now part of the Global Covenant of Mayors are mobilizing and aggregating their power to uphold the Paris Climate agreement commitments to reduce greenhouse gas emissions made by President Barack Obama. Cities are intentionally putting systems in place to enable sharing of strategies on renewable energy generation, carbon-free transportation, and housing initiatives to combat climate change.
Former New York City Mayor, Michael Bloomberg, the UN special envoy for cities and climate change has personally committed to paying the US contribution to the UN Framework Convention on Climate Change, the supranational forum in which international climate change discussions take place. Jerry Brown, Governor of California, the world's sixth largest economy, signed green technology agreements with the Chinese government during the type of visit China usually reserves for a visiting head of state earlier this month. Governor Brown also appeared with the energy ministers representing 24 European Union countries at the Clean Energy Ministerial talks. 
The time is now for Americans to take local command and control of their community environmental wellbeing. The Mid-Atlantic Transition Hub (MATH) initiates a series on reclamation of local energy and food sovereignty with Community Solar 101 by Gary Skulnik. of Our Power Solar.
---
Community Solar 101

By, Gary Skulnik

A major new renewable energy opportunity has entered the US. It's called "community solar" and it's a really big deal.

In a nutshell, community solar allows people to buy solar power for their homes or offices from a nearby community solar "farm," which is an array of high-efficiency solar panels that can be built on a local brownfield site, on top of public buildings, or private land. It works just like having a solar panel on your roof, but your panels are part of a bigger project. The power your panels produce is integrated with local utilities, so you can see solar credits right on your electricity bills. Solar credits lower your energy bills and show how much more renewable energy your panels are contributing to the grid.

Cool, right?  Right. But chances are, most people haven't heard about community solar. That's because it's a pretty new phenomenon. Only a handful of states across the US have legislation that makes community solar possible—and New York, Maryland and D.C.. are three of the states on that list. So it's not surprising that in a Shelton Group survey only 20 percent of people had heard the term "community solar." But here's the thing: once people learn a bit about it, nearly half Americans say they want in. Community solar has the potential to vastly accelerate our transition away from fossil fuels toward cleaner, renewable energy sources. It could become one of our most powerful tools in the fight against climate change.

 Solar power's potential to take us towards a grid with 100% renewable energy has been recognized for a while now, but there have been significant obstacles along the way. More than half of US homes can't tap into traditional solar, even if they want to. They don't have the right kind of roof, they don't live in the right place, or they simply can't afford a home solar system. Community solar removes these barriers. No matter where you live, by subscribing to a community solar project, you can put solar power onto the grid and displace the demand for fossil fuels. The potential is huge. In fact, the Rocky Mountain Institute estimates that community solar could add 30 gigawatts of solar capacity by 2020. That's more than twice of what currently exists in the US!

Another really important feature of community solar is that you no longer need to choose between clean energy and low prices. Community solar has the potential to actually lower your electricity bills. Where community solar rates have been published in Massachusetts and New York, potential savings are listed in the 10% to 20% range. As a result, community solar can both reduce carbon emissions and lower the cost of energy that is a real economic burden for low-income families.

For these reasons, a diversity of players, including states, cities, companies and everyday people, are pushing ahead with community solar projects. When town officials in Nelson, British Columbia, brought the idea of community solar to its residents, the majority of the responses they received were to the likes of, "Let's come together as a community and make this happen," and, "Go for it." In June 2017, the 60 kW Nelson Community Solar Garden project was launched, supporting the town's Low Carbon Path to 2040.  Today, 240 solar panels in the Nelson Community Solar Garden are generating clean, pollution-free energy and the Garden's subscribers are receiving solar credits that are deducted from their energy bills. 

But you don't need to be a city official to spearhead community solar. In late 2016, a D.C.. law firm, Nixon Peabody, started out searching for new office space and ended up creating D.C.'s first community solar project. Originally, they were just looking for a building suitable for rooftop solar. Yet, they quickly realized their solar installation could be financed through D.C.'s distributed generation programs. The firm brought two other office buildings on board, installed the PV solar arrays and started looking for subscribers. Having previously worked with affordable housing developers, Nixon Peabody decided to make their project exclusively available to residents of a couple of low-income housing facilities in D.C.. Today, a hundred low-income D.C.. residents save $20 a month on their utility bills. And, through the selling of renewable energy credits (RECs), external financing, and a grant from the District Department of Energy and Environment, Nixon Peabody didn't't pay a thing.

Community solar will be an important part of the widespread adoption of renewable energy sources. A forward-thinking B.C.. town, a small law firm in D.C.., and hundreds of other community solar subscribers have all realized this already. Of course, community solar is just one way to get green power projects built. As Jorge Madrid of the Environmental Defense Fund writes, "A strong community solar program can work in tandem with rooftop solar, utility-scale clean energy, electric vehicles, and battery storage to reduce harmful carbon pollution from our electric grid." For those states and cities that have pledged themselves to the Paris Agreement in the absence of federal commitment, community solar will play a critical role in reaching carbon reduction goals.

There are a lot of reasons to feel excited and hopeful about community solar. Hundreds of new projects will get built across the country in the near future, giving people the chance to be a part of an important climate solution. Do you want to help bring community solar to your neighborhood? Now is the perfect time to get involved. Find out how at www.ourpower.solar
---