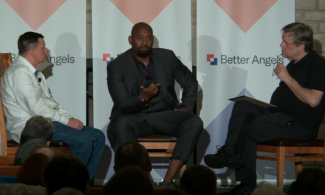 Body paragraph
Tea Party leader, Ray ­­­­­Warrick, and Black Lives Matter leader, Hawk Newsome, shared the same platform at the Better Angels convention, June 21, 2019. David Blankenhorn, co-founder and president of Better Angels, moderated their discussion.
Hawk Newsome is chairman of Black Lives Matter NY. He previously worked for a law firm and the Bronx County Office of the District Attorney. He founded the Bronx Sharks, an athletic club that has sent numerous at-risk youths to college on scholarship. He lives with his wife and two children in the New York area. Hawk spoke at a rally of Trump supporters in a way that bridged the divide.
Ray Warrick is a founding board member of the Cincinnati Tea Party, founder of Warren County (Ohio) Liberty Alliance, and former chairman of the Warren County GOP. He attended the first Cincinnati Tea Party gathering on March 15, 2009, and then spoke at the first Tax Day rally in Cincinnati, an event at which Cincinnati streets had to be blocked off to accommodate the thousands in attendance. Ray is a member of the Better Angels SW Ohio Alliance.
Click here to watch the video.
This blog is the third in a series on moving beyond polarization. See #1 here and #2 here.