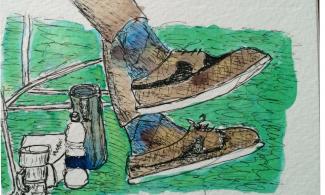 Body paragraph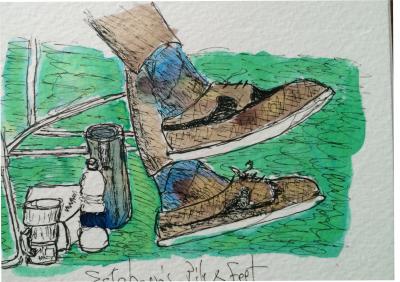 This was the first time I could get away to attend an Advancing Development of Workplace Democracy (ADWC III) and the Eastern Conference on Workplace Democracy (ECWD 2015). It was a very rewarding trip.  Josh Davis, Content Editor for GEO flew in a day early and we travelled up and back together.
Overall, these get-togethers were very valuable for me. I got to put faces to names GEO talks about in various articles and gleanings; to meet Ajowa, the one member of the GEO Collective I have never seen in person before; and to be immersed in the conversation (at ADWC III). ECWD was a blur of introductions and vast stretches of sketching the architecture of Clark University's Higgins Hall (which I found interesting) while covering GEO's table in the lobby.
ADWC was the continuation of a now mature conversation. While there were numerous new participants, there was a deep current established in the previous two ADWC sessions. Anne Reynolds (University of Wisconsin, Madison) and Esteban Kelly (USFWC) facilitated the session working the framework the GEO Collective suggested. It was a flexible and fluid session. Pretty much everyone in the room got to voice their opinions and thoughts over the course of the day. Several small-group (talk to your neighbors) sessions also provided personal depth.
Everyone in the room was a leader. We had funders, developers, and worker-owners. The room was dominated by a desire to develop more Worker Co-ops and not so much by the need to discuss specific challenges of individual co-ops. There are so many important and compelling areas of concern that the conversation occasionally lurched down a path, but the facilitators tried hard to keep the group from too much "rat-holing" no matter how tempted some of us were to pursue the specific topic of the moment.
My impression of ADWC III was that a number of relatively inexperienced activists, organizers, and co-op developers got a lot to think about from the "older, wiser heads." Everyone in the room connected with folks from around the East and MidWest (the West wasn't present, sadly) who share their passion and challenges. It was a great session. A special thanks to Janelle Cornwell, Michael Johnson, and Ajowa Ifateyo for arranging the pre-conference at Worcester State University after ECWD decided ADWC III would not be the pre-conference for ECWD 2015.
ECWD 2015, itself, was something of a blur. GEO tabled with the Valley Alliance of Worker Co-ops (VAWC) and sold copies (signed by the author if you could track them down) of Jessica Gordon-Nembhard's Collective Courage: a History of African American Cooperative Economic Thought and Practice and Janelle Cornwell's, Michaeil Johnson's, and Adam Trott's Building Co-operative Power. Both were well recieved with numerous copies sold. I managed to tear myself away from conversatons on the patio and attend the Awards Ceremony Friday night but that was to be the only formal session I'd manage to get to. The rest of the time was spent in one-on-one conversations and meetings at the table. We had a "nerding out" session Sunday lunch-time with the folks associated with the Data Commons and hopefully, we will continue to strengthen that initiative, co-operatively.
It was a great trip, hopefully the first of many ECWDs and ADWCs for me.