Body paragraph
By Hilary Abell
Women's Action to Gain Economic Security (WAGES) is a non-profit organization whose mission is to build worker-owned green businesses that create healthy, dignified jobs for low-income women. WAGES' model combines a multi-pronged "incubation" approach to cooperative development with a "sector initiative" - developing multiple businesses in a single industry (green residential cleaning) to more efficiently create high quality jobs. We build new green cleaning co-ops from the ground up, each with its own service area, to gain economies of scale without competing with each other. The WAGES network has five co-ops operating in the San Francisco Bay Area with combined sales of more than $3 million in 2010 and almost 100 worker-owners.
WAGES' co-op incubation process, which we have honed and improved over time, requires three to four years of intensive investment and produces a mature co-op that can sustain itself for the long haul. The six to twelve month pre-launch phase includes business planning, recruitment and training for founding members, partnership development, capital procurement for the co-op, and fundraising for WAGES' development efforts. Once the co-op opens, WAGES works closely with the members to actively grow and develop the business for approximately three years. During this time, a "development team" of WAGES staff members, including a co-op manager, a trainer, and a technical advisor, provides four services that we have found to be critical for long-term success:
Recruitment and training for founders and new member groups, plus continuing member education programs and facilitation of member meetings.
Technical assistance on legal, financial and business issues.
Management services:

 

funding the General Manager's position and helping him or her be a successful co-op manager throughout the incubation period and beyond.
Policy and governance:

 

providing a policy framework for the co-op and sitting on its board of directors, together with elected worker-owners, to help ensure business success, sustainability, and mission fulfillment.
With more co-ops in our network, WAGES is developing a suite of shared business services, such as payroll and benefits administration, quality assurance, and marketing.
The model, by design, provides initial control to WAGES and the co-op board, on which WAGES occupies the majority of seats during the incubation period (WAGES' role significantly decreases after incubation). While counterintuitive to many in the co-op world, this arrangement exists for one reason only:  to further WAGES' and the co-ops' common mission of creating healthy, dignified jobs for low-income women. WAGES has found through 15 years of continuous improvement of the model that the advantages of not reinventing the wheel and moving more quickly towards sustainable job creation outweigh the disadvantages of less member control. In fact, members seem to experience greater "empowerment" by having a full schedule, time to care for their families, a voice in the workplace, and control over a small number of key decisions, than by having to shoulder the full burden of bringing a start-up business to stability. At its best, WAGES' model combines ongoing member participation and learning with rapid business growth and a transition to greater member control as the business matures.
Members of the Eco-Friendly Cleaning Co-op Network, powered by WAGES
 How can this model be used beneficially by other groups?
Many of the strategic principles underlying WAGES' model could be applied to other co-op development efforts, especially where job creation is a primary goal. For example:
Focusing on a single industry enables a co-op developer to benefit from economies of scale, minimize the need for industry-specific learning with each new co-op, and avoid re-inventing the wheel.
Being clear about the underlying standards and the hierarchy of objectives in a co-op development effort can guide strategic decisions. For WAGES, underlying commitments, such as our dignified pay floor and high-bar environmental standards, are a given. Other aspects, like training curriculum, allocation of staff time, and decisions about policies and business strategy, are adjusted along the way with the job creation and business growth objectives as the primary guide.
The developer should know in advance how many years of support it can provide to the new co-op and how it will secure the skilled staff and resources to fulfill this commitment. A developer can do a dis-service to co-op members if it is too idealistic or unrealistic about how and when the balance of responsibilities transitions from the developer to the members.
Depending on the project's objectives, a developer may want to put in place certain requirements, or maintain control over some strategic components of the project, during an agreed-upon period of time. This can set the co-op up for success and enable worker-owners to increase their responsibilities gradually. Rather than negotiating these issues when a project is underway, it is best to set these rules in advance; the developer can always decide to relinquish control sooner, but it's difficult to go in the other direction.
Integrating the business side and the human side of cooperative development helps ensure success. A viable business plan, a training program, and a good governance system that fits with the logic of your business are all essential and should be in place before the business opens. Build time for member meetings and continuous education into the operations calendar from day one, since these critical aspects could otherwise take a back seat to day-to-day business matters.
Where would it not be beneficial?
Although many of the principles could still be applied, WAGES' model may not be beneficial if the co-op developer cannot make a long-term commitment to the project due to scarcity of resources or other factors. The model is simply too complex and labor-intensive in the early years, but the pay-off is long-term, and the developer's role can decrease or be eliminated after the incubation period. WAGES' approach works very well for the people for whom it was designed:  low-income workers, many of them single mothers, who are seeking good jobs and an opportunity to help their families get ahead. Substantial increases in income and benefits and greater control over work hours mean a better quality of life and more time with family. Workplace democracy is of interest but not the driving force for most members' participation. If this balance of priorities were reversed, some elements of WAGES' model would not apply.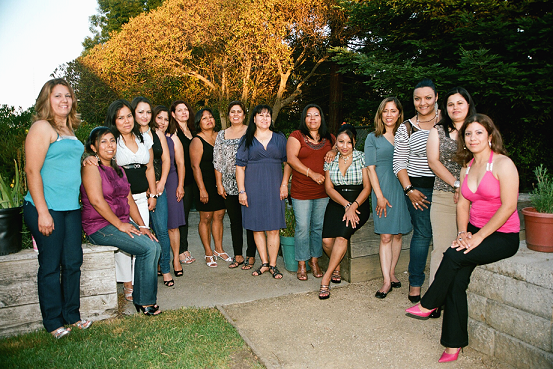 Worker-owners of Emma's Eco-Clean, founded in 1999.
Can you describe WAGES partnership with Seventh Generation?
WAGES has had a mutually-beneficial, mission-driven partnership with Seventh Generation (SVG) for five years. The partnership has been characterized by shared goals and by open dialogue and transparency from the beginning. On WAGES' side, the partnership has had numerous benefits:
Funding, for WAGES' co-op development work and special events and for branding and on-line advertising for the WAGES' co-op in San Francisco.
PR and media work:

 

SVG's PR team generated publicity for the San Francisco launch and helped build the co-op's initial client base. They also produced a series of "learn how to clean" youtube videos starring WAGES' trainers.
Professional development opportunities for co-op members and WAGES staff, including product testing and media tours.
Favorable purchasing arrangements for Seventh Generation products, as well as product improvements based on our feedback.
Volunteer hours and pro bono advice from company employees.
From Seventh Generation's side, they have articulated the following benefits to the partnership:
Mission:

 

First and foremost, Seventh Generation leaders have seen supporting WAGES as a way to express their company's commitment to social equity and to extend its impact beyond its primarily white, middle-class consumer base. For WAGES, although we already knew and trusted Seventh Generation products, it was important to understand the authenticity of the company's mission and the respect they had for WAGES and our co-op members before deepening the partnership.
Employee satisfaction:

 

Many Seventh Generation employees have cited the partnership with WAGES as one of the things they love about the company.
Industry learning:

 

As a consumer products company, SVG was interested in learning more about a related industry (residential cleaning) and in getting professional feedback on their products.
With Levi Strauss?
WAGES' relationship with Levi Strauss and Co. is primarily through the Levi Strauss Foundation, one of our biggest funders and a valuable thought partner in our asset building programs. Our work with the corporation itself has included sponsorship for WAGES' 15th Anniversary Celebration and their giving a Pioneer Award to the founders of WAGES.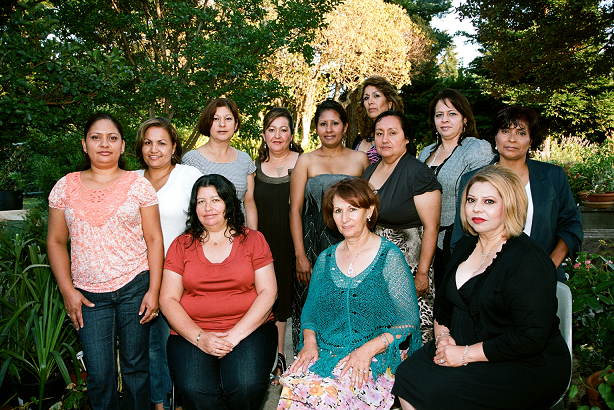 Worker-owners of Eco-Care, founded in 2001.
 Are these sponsorships or partnerships' What is the difference?
While a partnership can be defined in any number of ways, a sponsorship generally entails the sponsor getting brand recognition and visibility (at an event, for example) in exchange for a cash or pro bono contribution. WAGES' policy has been to seek event sponsorships only from socially-responsible companies. Both Seventh Generation and Levi Strauss have sponsored WAGES events, but our partnerships have been much broader. WAGES and Seventh Generation agreed to call our work together a ?strategic partnership? because we defined it based on the strategic interests and capacities of both organizations, not based on any formula or external definition.
What is WAGES seeking to gain from these corporate relationships?
WAGES' goal in developing these partnerships has been to garner more resources and expertise to expand our work and achieve our mission. In 2003, WAGES had two co-ops with a combined total of 20 worker-owners, and now in 2011, our network includes 5 co-ops with almost 100 worker-owners. This growth has been achieved through the co-op incubation process described above and fueled primarily by grant funding. Although the co-ops pay development fees to WAGES during the incubation period, these fees cover only a small portion of the cost of the services WAGES provides.
As WAGES and our co-ops have grown, the impact of the work has proven to be transformative for members: our data shows that worker-owners at mature co-ops are earning much more per hour than in previous jobs, and their family incomes have increased by more than 70%. WAGES is eager to increase the pace of our co-op development efforts and to make this kind of change possible for many more women, and in more communities - in other words, to "get to scale," according to our own definition of that term. Two things are essential to making that happen: 
Building WAGES' own capacity and expertise - of the staff who do the co-op development work and through partnerships that bring additional expertise; and
Additional funding for the co-op development work.

 
Partnerships with different kinds of organizations - including foundations, corporations, co-op groups and non-profits - are a way to add expertise, raise funds, and increase visibility which can help generate more resources. The guiding principles in all of these partnerships are mission compatibility and a positive cost-benefit analysis.
What has WAGES given in return?
WAGES evaluates corporate partnership opportunities in the same way we evaluate any collaboration. With Seventh Generation, the mission compatibility and authenticity in the relationship are very high and the benefits have far outweighed the costs. We have had to give time to cultivating the partnership and to participating in some initiatives that Seventh Generation considered a priority but which strained our staff time. This proved to be manageable, and to have secondary benefits that we had not anticipated. In addition, we agreed to prioritize Seventh Generation products in the suite of cleaning products that WAGES licenses our co-ops to use. This flexible policy allowed us to integrate new SVG products that our testers had approved, to continue using traditional "home remedy" products such as baking soda and vinegar, and to use a few products from other companies that did not directly compete with the SVG line. In no instance did the partnership require us to do something that was not in WAGES' or the co-ops' best interests.
What does the corporate partner gain?
Both Seventh Generation and Levi Strauss are corporate social responsibility leaders in their industries (for example, GoodGuide just rated Levi's "#1 denim brand" for its green and social practices), and they have seen their support of WAGES as a way to further their company's interest in social justice. This mission benefit is real and important to the company. Other benefits include the so-called "halo effect" of being associated with a non-profit that improves women's lives, promotes green business and cooperatives, and has inspiring stories to share. Both WAGES and our partners are careful to describe our collaboration accurately so as to avoid any perception of potential "greenwashing."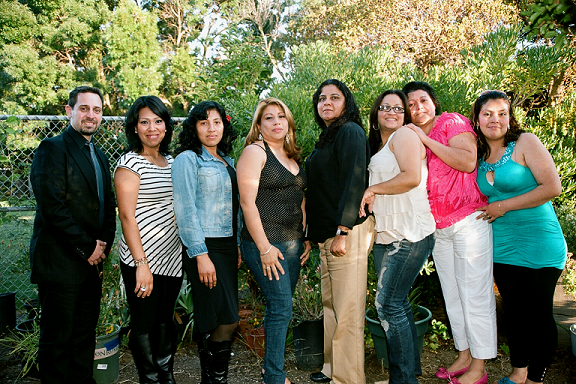 Worker-owners of Home Green Home Natural Cleaning,
founded in 2009 with partnership from Seventh Generation.
What does it mean for a co-op development organization to pursue strategic partnerships with larger entities? What are the potential costs, risks, and benefits?
As with non-profits, co-op development organizations should evaluate every partnership opportunity in light of their mission and of the partnership's potential benefits, costs and risks. Many groups are concerned about "mission drift," giving up control over their cooperative or project, or the time investment required. While these are valid concerns, they can be treated as issues to avoid (in the case of mission drift) or address (in the case of time concerns) in exploring potential partnerships, rather than as reasons not to explore them. Any partnership should be among equals, and a partner worth engaging with will be willing to do so on terms that make sense for the co-op development organization. 
What would be sacrificed if your organization worked without a strategic corporate relationship?
In WAGES' case, we would not be able to continue our work without outside funding nor to expand it as quickly as we have without outside partners. It has been important that we set the terms for the funding and the partnerships (ensuring that the goals we propose to partners match our internal goals), and that we are open to some degree of flexibility and innovation. Our partnerships with Seventh Generation, Levi Strauss and many others have helped us expand our vision of success and increase our impact.
What do such arrangements offer that worker co-ops can't do themselves?
Each situation is unique and whether or not strategic partnerships can enhance a cooperative endeavor will depend on the co-op's or developer's own capacity and what the partner can offer. Worker co-ops and co-op developers may be able to gain more business expertise (or a different kind of business expertise), experience with scaling, greater visibility, funding, access to market information, favorable purchasing or vendor relationships, or other benefits by partnering with outside entities.
When and how would you encourage cooperatives to pursue strategic relationships with larger entities?
I would encourage worker cooperatives and co-op development organizations to consider strategic relationships with other organizations that can add capacity to help you achieve your goals. The first step is being clear what you want and where you are headed; second, knowing your strengths that will help you get there and identifying the gaps ("know what you don't know"); and third, seeking partners who can fill those gaps and add value. It all depends on your business model, strategy, and goals.
The co-op sector and progressive movements in this country have a wonderfully strong D-I-Y tendency that is key to our success but can sometimes get in the way. If your co-op or organization has a big dream that requires outside resources, work out where you're willing to compromise and where you aren't, and enter into the conversation!
This is a great time to engage a broader set of stakeholders and allies in building the cooperative economy. Our movement has so much potential to bring people together, create jobs, build wealth for ordinary people, teach democratic skills, and enhance community well-being - but we can't fulfill our potential by preaching to the choir. With The International Year of Cooperatives and the public's increased appetite for fairer, more sustainable economic models, we have an opportunity to think bigger and to expand our movement. Partnering with progressive corporations, foundations, economic development practitioners, non-profits, and, of course, our own cooperative federations and development organizations, is one way to do this. Let's think big!
The permanent link to this issue is http://geo.coop/node/635.
---
About the Author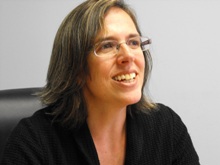 Hilary Abell was Executive Director of WAGES (Women's Action to Gain Economic Security) from 2003 to 2011. Her previous work covered a range of issues including fair trade, environmental health, women's health, and immigrant rights. As a worker-owner at Equal Exchange in the 1990s, Hilary visited fair trade farmers in Latin America who inspired her commitment to cooperative models, environmental sustainability, and collective endeavors that give us space to dream. Hilary has served on the boards of directors of numerous co-ops and is currently a board member for Opportunity Fund, a non-profit organization based in San Jose.
Hilary Abell can be reached at hilaryabell@gmail.com
For more information about WAGES, contact Alex Armenta at (510) 451-3100 or write to
wages@wagescooperatives.org.
Citations
When citing this article, please use the following format:
Hilary Abell (2011).  WAGES Model and the Value of Partnerships.  Grassroots Economic Organizing (GEO) Newsletter, Volume 2, Issue 8.  http://geo.coop/node/635.