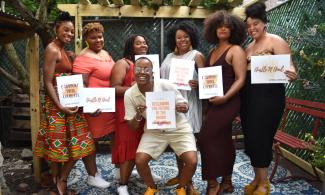 An Interview from the Take Care of Each Other World Tour
Body paragraph
TRIBE is a co-creating space for Black and Brown small business owners, creatives and doers who are from, live in or love the Bronx. Started by Queer Black/ Afro-Latinx womxn, TRIBE was created as a space for Bronx folx to create together, build community and care for themselves and others. As a cooperative business, TRIBE's values are rooted in equity, collective care, sustainability and abundance.
···
The Take Care of Each Other World Tour is a series of interviews with architects, farmers, engineers, and cooperative businesses about their sustainable visions for the future. The tour archives the work of people who cooperatively shape their world instead of endure it. This work records their inspirations, grounding principles, and lessons learned for future generations to move their work forward. In partnership with the Moorland Spingarn Research Center at Howard University and the Grassroots Economic Organizing Collective, the tour explores eight cities in the U.S. and Accra, Ghana.
Header image via the Tribe Co-create website.
Citations
Malikia Johnson (2019).  Tribe Co-Create:  An Interview from the Take Care of Each Other World Tour.  Grassroots Economic Organizing (GEO).  https://geo.coop/articles/tribe-co-create