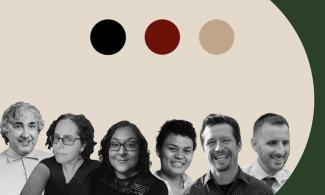 Body paragraph
cross-posted from Shelterforce
Spurred in part by COVID and by a growing housing affordability crisis, tenant organizing is picking up, not just in expected places like New York, but in mid-sized cities like Austin and Baltimore, and even smaller cities like Louisville, Kentucky, and Portland, Maine. Increasingly, tenant organizers are not just winning battles against landlords, but changing public policy. For instance, rent control was passed in Portland, Maine, last November.
In this webinar cosponsored by NPQ and Shelterforce on July 12, moderated by Steve Dubb, NPQ economic justice senior editor, and Miriam Axel-Lute, Shelterforce's editor in chief, four tenant activists shared their stories of direct tenant organizing and policy advocacy.
The participants were:
The following is a lightly edited account of the conversation. Watch the full webinar above.
Miriam Axel-Lute: Thanks so much for joining us. I am going to turn it over to Josh Poe to tell us about some of his work in Louisville.
Josh Poe: Thank you, Miriam, and thank you, Steve, for hosting. My name's Josh Poe. I use the he/him set of pronouns, and I am really proud to be from Eastern Kentucky in the Appalachian region of Kentucky. I actually started organizing as a child working in tobacco fields. Child labor was still legal in tobacco country. We organized to get wages as children. From there, I started doing tenant organizing in Seattle with what was then called Washington Citizens Action.
I have a really strong background as an impacted person, deeply impacted by racial capitalism. I experienced houselessness, incarceration, substance abuse. I'm in recovery, but also have a really solid policy background. I was able to get a degree in urban planning [and] I've been doing tenant organizing in Louisville for over 10 years.
I also did a lot of policy work, but what we found in Kentucky is that without a base of people to really move policy work, that wasn't enough to build power. In 2022, we felt like we had a solid base of tenants organized in Louisville to actually start a citywide tenant union. The Louisville Tenant Union began in March or April of 2022. We won our first campaign, and we now have over 200 dues-paying members and have a local campaign, a state-level campaign, and then we organized nationally as part of the Homes Guarantee campaign.
Dubb: Gabrielle Garcia, do you want to introduce your work in Austin and tell us a little bit more about yourself?
Gabby Garcia: My name is Gabby Garcia. I use she/her pronouns. I am originally from El Paso, and I have been doing various types of organizing since college. I've been with BASTA four years. I'm the project coordinator and also organizer here. BASTA started in 2016, spurred by dangerous and substandard conditions that were happening all around Austin. There were two balcony collapses around that time. At that point, people were like, there's a systemic issue.
Other than direct services for people having individual issues, there wasn't anybody doing organizing to work on the systemic issues. That's how BASTA was born. Our bread and butter is organizing. We have two teams. We have our BASTA organizing team, and we focus solely on helping tenants at various apartment complexes, organized tenant associations. Then pretty recently, we added an additional team that focuses on eviction mitigation.
Both projects are trying to shift the balance of power that exists between landlords and tenants because we know tenants have very little power. We believe that organizing efforts in order to be successful should be led by those who are most impacted. I'm really happy to be here.
Wes Pelletier: Thanks so much for having me. I've been involved with tenant organizing for almost half a decade now. I'm not really sure how I got involved. It just happened. We started doing tenant outreach in terms of rights and trying to make sure that people who were at risk of getting evicted knew their rights. Then during COVID, I organized a union within my building, which is owned by one of the bigger landlords in town.
We built on that with my work in DSA. We've passed rent control in Portland alongside a slate of tenant protections and have defended those. Really, a lot of it is figuring out how to come at tenant rights and housing protection from both a policy angle as well as an organizing angle, especially when those in charge aren't particularly interested in tenant rights. Very much excited to learn from my fellow panelists here.
Anneke Dunbar-Gronke: Hi, everyone. I have three more days as a Skadden Fellow with the Fair Housing and Community Development Project at the Lawyers' Committee for Civil Rights Under Law. My personal background: I've been working and supporting organizing around Black land and housing issues for over a decade. I have a family history of displacement in the South and on the West Coast and Bay Area.
I've also been working with anti-gentrification organizers for many years in New York against Columbia's expansion into Manhattanville and Harlem, with public housing tenants in New Orleans with a group called Stand With Dignity, and also, with anti-displacement organizers in Boston. I share that to say that my background in organizing and all of these experiences and all of the things that I've learned from organizers over the years have grounded my legal work and continue to.
Since I began in this position [in 2021], I've been working almost exclusively in Baltimore. I provide direct representation of tenants in rent court, but most of my time is spent supporting Baltimore Renters United, which is a newer tenant-led base-building organization. I provide legal, strategy, and policy support, and also do some organizing of attorneys to support that work, in addition to some transactional advising of cooperatives and land trusts, in addition to some fair housing matters in other jurisdictions. Also trying to be available for impact litigation.
Axel-Lute: Thanks, all of you, for the great work that you're doing. We have some folks here who are new to thinking about tenant organizing, [so] can you all tell us how you define what is tenant organizing?
Pelletier: I struggle a lot with even defining organizing honestly just because it's nebulous, but to me, it is getting people together to do something that they might not normally do that benefits the greater whole. It obviously fits in with tenant organizing because these are people's homes that they're having to pay for and live in fear obviously a lot of the time. It comes down to a lot of the time building class consciousness and understanding that it is strange that this is the setup.
Then also a lot of it comes down to learning how to be in meetings and learning how to have conversations and learning how to talk to other people, which are skills that are less common than maybe they used to be, but just getting people used to knocking on each other's doors whether it's for asking for sugar or whether it's asking for somebody to sign a letter or wear a button. Just that coming together and building a community while also building awareness of the system and how we can come together to make it even a little bit more equitable.
Poe: We define it pretty simply as just a group of tenants who've come together to achieve things collectively that they couldn't have achieved as individuals. One of the things we really try to connect with with our members when we first engage them is the difference between advocacy, service, and organizing. I think those are three very distinct things, and I think in this country we conflate those three things, but they're very different.
Organizing is really about power building, and it's about uncovering our individual self-interest, and then building power based around those shared self-interests.
Garcia: Yes, 100 percent. I think that that's the way that we did define it as well. Whenever we're going into a property, people are starting off thinking—if they're not talking to their neighbors—"Oh, this is only my issue." Management definitely tries to make it seem like [it's only you]. Let's say there's a pest issue, you have rats. Well, it's your fault because you're dirty, and you did this. But then you start talking to neighbors, and it's everywhere. It's happening throughout the complex.
It's people coming together and realizing that what's happening to them is a more systemic issue, and then working with them from there to figure out, oh, OK, we all have this issue. We've identified it, but now what are we going to do about? How can we find solutions that are going to help everybody and not just me individually? Yes, that's a big part of it. Just letting people know that they're not alone in this and this is a lot bigger.
Dubb: I'll direct [the next question] to Anneke. How does tenant organizing build power?
Dunbar-Gronke: This is really just adding to what all of the folks [who] are spending all of their time organizing have already said, but from my perspective as an attorney the power that I have seen built… First of all, of course, there's numbers. It's in the way that labor organizing is really powerful because most people have to have a job in order to live. Most people have to have a house or are having an issue with housing or are unhoused.
Everyone has a relationship to where they need to be, where they need to lay their head, and so there are a lot of people that can be engaged to move things. I mean, the more people there are around an issue, the more energy there is around the issue, the more people are talking about an issue, and that leads to more people being willing to do something about an issue. I feel like that's just fundamental organizing math.
As an attorney, I am often talking to organizers about the limitations of the law. I think that's a really important conversation to always be having. I know the law can exert a lot of power over folks' lives, and also it is so not powerful for supporting the causes of tenants.
I often describe the law as a tool for moving resources and moving resources only. It's not a tool for justice. It's rarely a tool for justice for the folks that are most marginalized, folks who are undocumented, Black folks, anybody who is not a wealthy white male landowner from, like, 1756. Those are the folks that most laws were written for. We try to pass better laws, we try to pass better policies, but these tools are very imperfect for that purpose and the thing that will actually shift the balance of power, the balance of resources, and redistribute resources into the communities that have been historically marginalized and excluded—it's going to happen through organizing. What I try to offer when I bring the legal tools, where it's my job to be good at executing the legal tools, I always want to make it in support of a group of people that is coming together and knocking on each other's doors and talking to each other, and to bring that tool in the least disruptive way possible so that people can keep building power because the law is never going to do that.
Dubb: Wes, this would be a good place for you to dig into a little bit of the organizing in your own building. That was an instance of building tenant power.
Pelletier: Sure. This is when lockdown first started. We'd been talking about trying to figure out how to do tenant unions for a long time and had hit a wall because Portland is basically a biggish town. It's the biggest city in Maine, but it's so small. It's like 60,000, 70,000 people. We don't have a ton of services, and basically, people are just trying to keep their heads down. We have obviously no-cause evictions. It just makes people very scared. We had one tenant union that tried to form a year or two back, but it got crushed.
Starting in lockdown, it was very scary all around, both on a community level in terms of just what happens if my neighbor dies, or something like that, and also just a financial level, obviously. I and some others basically just started a Discord server, which is just like a chat room. I knew, OK, we're going to try to organize around this, but wanted to first start building the community around it.
Then from that, with the help of some of the people that lived in my building, including a former mayor, we started figuring out, "OK, how are we going to engage with the landlord, and how are we going to start collecting demands?" We didn't make a perfect tenant union, and we are still trying to figure out what it is. I think one of the hardest things is definitely creating a power structure and creating a sense of what it is.
It is more of a community now that sends angry emails and meets the landlord every once in a while. We are engaging as a service, and that part kind of kills me, but it is just like, "Oh, yes, we're going to email the city and make them enforce this rule."
Also knocking doors, trying to have dinners, have stuff out behind the building, and trying to thread those two things, while also trying to set an example and try to get people to organize their own building because we don't have any paid staffers, obviously, in DSA, or really many organizations around town that are trying to organize tenants. It's really just been trial and error and figuring out how to build power while making sure that people feel connected and bought in and part of the whole.
Dubb: Thanks. Josh, talk about the building of the tenants union in Louisville. You're in a red state, so you might give that context too.
Poe: I think there are two parts to this question: How do we organize, and then how does our organizing build power? We really try to organize around self-interest as opposed to ideology. I think, in this country, when you organize around your ideology, you end up with a room full of people who have the same ideology as you.
We don't necessarily have enough of those people to win. For instance, when we go into trailer parks, a lot of people in trailer parks, their rents increase, their trailer park is now owned by a corporate landlord. They see brown people moving into their neighborhood, and they tend to blame that because we don't have the best public education system in this country. People don't really have a way of explaining what's happening to them politically, but they are outraged.
We try to connect directly at that outrage, and then bring them into a base of people who don't necessarily look like them, and then uncover their self-interest and get them to understand that they actually share the same self-interest as these people that they've been told that they're actually segregated from. Understanding that self-interest is really key. I think this is true of the whole country with the working class, but I think it's particularly true in the South, is that we've been trained to be selfless, and we've been trained to give up our power over and over again.
It's important to understand that we're not really doing that in and of ourselves. That's a tactic of the ruling class. Getting people to understand what their self-interest is, and then getting them to act in that self-interest, and getting them to declare that publicly is a real key part. Then the way we build power on top of that is getting them to behave as a collective. Very simply, the working class in this country, I believe, there are two things we have that's real, and that's our rent and our labor.
I think the real potential of the tenant movement is that if we can build a large enough base across this country, there's a day when we can make the call for a national rent strike, and bring this entire system crashing down, and then dictate the demands that we actually want. I tell people, if you're interested in environmental justice, if you're interested in cultural justice, tenant organizing to me is really the thing that's going to win and build the power in this country to shift the power dynamic that we currently have.
As far as the red state goes, I think it's really important to keep in mind that in a place like Kentucky, it's not actually a red state, it's a purple state, and the majority of the population does not vote. We have voting districts in Kentucky where 70 percent of the people aren't voting. At the same time, the Kentucky Democratic Party didn't run candidates in 40 districts last year. We see that as a real opportunity to build tenant power in the South and connect with people around their material self-interest. I actually think that tenant organizing is the way we win in the South and in red states in general.
Garcia: We have a really similar approach. Yes, we don't approach people with ideology, we try to meet them where they're at because some of what Wes was saying, you don't want to hear about ideology in the moment that your roof is caving in or whatever, you're focused on survival. You need to start there, and then get people to see those wider connections.
Then going back to what Anneke was saying, I think … the way that you build power is once you have a tenant association, those groups can show up in spaces where they normally aren't. If there's a city meeting, and they're deciding things about tenants, or if it's a commissioner or a county commissioner, or whatever, tenants are never at those places because they're working, and they're doing things. Other people are deciding what happens in their lives, these major issues that affect them without that voice being heard.
What a tenant association allows you to do is have people in those places telling their stories, giving a different perspective, and having a voice where they didn't have one before. That's, I believe, another way that you build that power. Then, also, I think what both Josh and Wes were saying, the base is so important. You're not going to have this successful tenant association or build real change if you only have two leaders, and the rest of the base isn't engaged.
You need a group and there needs to be accountability and a collective thought process, not just like how do I fix my individual issue, but how are we benefiting everybody here, even people that don't show up to the meetings? That's the hard part.
Read the full transcript at Shelterforce