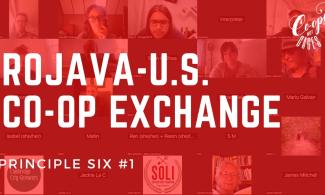 Principle Six #1
Body paragraph
This is the 10 December, 2022 phone bank and exchange between Americans and Rojava cooperator Kraker. This is an edited down version of this info session.
There was a similar cultural exchange in August 2022, which was not video recorded for posterity.
FOR COOPERATORS TO JOIN RELATIONSHIP BUILDING WITH ROJAVA CO-OPS Email int-coop-solidarity[at]googlegroups.com
PHONE BANK TOOLKIT Link: https://bit.ly/3GAQXS6
Follow defendrojava.org's social media to ensure you have the latest toolkit.
TIME STAMPS
00:00 Welcome (Anya)
03:26 Get involved (I) (Chris)
06:20 Intro to Rojava Co-ops (Emre)
16:30 Phone bank [Edited Out]
16:35 Rojava Co-ops On-The-Ground Update (Karker) Q&A Begins
20:00 Relationship to USA presence
23:18 Roadblocks in developing the cooperative economy, local pushback and adaptation
27:57 Structural relationships
31:56 Startup aid
33:21 How to materially aid from the USA
34:40 Advice for the USA
37:38 Effect of women's cooperatives and challenges
40:18 LGBTQ Q&A Ends
42:01 Get involved (II) (Chris)
EVENT ENDORSERS
Emergency Committee for Rojava
Cooperation Jackson
Cooperation Milwaukee
Flora Cooperative
Co-ops Not Cages
MORE ABOUT CO-OPS NOT CAGES https://beacons.ai/coopsnotcages