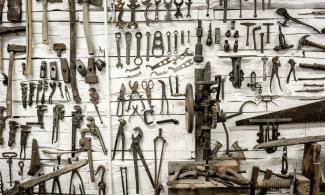 Body paragraph
cross-posted from Shareable
In "normal times" before the COVID-19 pandemic brought restaurant dining to a halt across large swaths of the world, the Baobab Café would have been buzzing on a slushy Saturday in November. 
The Baobab, a cooperative café in Sherbrooke, Quebec, was founded in 2018 as a hub for L'Accorderie Sherbrooke, a time bank and skills exchange, one of 12 such networks across the province. As coordinator Catherine Larouche explains, the goal of L'Accorderie is to set up a "parallel local economy" using hours as currency. If a member performs a service for another member for an hour — this can be anything from dog-walking to home repair to piano lessons — that hour is added to their time bank account; they can then cash it in and request a service from someone else. 
Before the pandemic hit, members would go to each other's houses, or meet at the Baobab or other neutral locations, to provide the agreed-upon service. Suddenly, that couldn't happen.
"At the beginning of the pandemic, we did have a slowdown of spontaneous exchanges," says Latouche. "Meeting in person is so much easier than doing everything by Zoom, phone, or email. You used to be able to take someone aside at the Baobab…and now you have to track them down."
L'Accorderie wasn't alone. "People have changed their ways of sharing during the pandemic," observes Graziella Michel, cofounder of a web-based skill-sharing platform called Simbi. "There's been a big shift from in-person to virtual meetings." She says there's also been a marked increase in demand, from people stuck at home and suddenly eager to learn new skills. 
New challenges
The pandemic has created many challenges for skills exchanges and other sharing initiatives that rely on person-to-person contact. Paul Magder is cofounder of the Toronto Repair Café (TRC). In "normal" times, the monthly "repair cafés" organized by Magder and TRC volunteers, held in libraries or church halls across Toronto, would attract as many as 200 people, each carrying a broken item that they wanted to learn to fix. Skilled volunteers — jewelers, tailors, electricians, computer technicians, engineers — would repair a range of items, from necklaces to lamps to laptops and cameras, while walking participants through the repair process. 
"It has been tough," admits Magder. "What we do — face-to-face, nose-to-nose repair work– will be some of the last stuff to come back." The TRC has organized online repair cafés via Zoom, and, like L'Accorderie, had to deal with a new set of challenges. "There are safety issues when you're trying to walk someone through repairing an electrical appliance; there are tools you need that not everyone has…and when you're trying to show someone how to sew up a hole in their shirt, it can be hard if their lighting isn't perfect," says Magder.  
Initially bereft, but determined, Larouche, Magder and their volunteers got busy creating workarounds and wrestling with the new needs the pandemic created. "We were worried about losing the link between our members. We recruited 20 people to make courtesy calls to older members, we set up an errand assistance service for members who couldn't go out, and members got busy sewing masks," Larouche recalled. Activity picked up as members adapted to physical distancing and videoconferencing.
"People have set up Zoom yoga classes, a dog-walking service, tech support, renovations, offered to drive people to appointments, these are things you can do at a distance," says Larouche. The Baobab Café is even humming again; Accorderie members film weekly Zoom art classes on its concert-less stage. Magder and his team set up drop-off systems and virtual workshops, focusing on repairing bikes and sewing machines, which were suddenly getting more use.
One general repair clinic organized in November in conjunction with the public library in nearby Brampton, Ontario, drew hundreds of people from around the world via Zoom and alerted Magder and others to the potential of the new medium. "We had someone who couldn't figure out how to install a door handle because of a lock on the door,"  said Magder. "Normally, that would never come up, because you have to bring [your item] to the event. But on Zoom, we were able to talk them through taking it apart and reassembling it and getting it working." 
The great rethink  
Peter Mui is a California-based engineer and entrepreneur and co-founder of Fixit Clinic, a network of repair cafés around the United States from which Magder and his fellow volunteers took inspiration. Fixit Clinic's goal is to fight overconsumption, waste, and planned obsolescence one repair job at a time, through events where participants learn to repair their own items with coaching from an experienced volunteer. An irrepressible optimist, he immediately points out the ways he believes moving online has improved the clinics. 
Mui refers to the online clinics as "a completely different product" than the in-person events. There are no walk-ins.  In order to be assigned a virtual Fixit Clinic coach, a participant has to have a solid Internet connection, be able to explain the problem with their item concisely, be at ease on camera, and ideally have some tools at the ready. They also have to be ready to work. "A lot of people came to our [in-person] events because they wanted free repair…but we're serious about teaching people to fix their own stuff," he explains. "The best thing about doing events on Zoom is that it forces that issue — we can't touch the item. They have to fix it on their own." 
Fixit Clinic also works with similar organizations in Europe, and going virtual has allowed fixers to tap into a vast hive mind of expertise. "One side effect of these virtual clinics is that every item gets so many eyeballs on it," says Mui. "We had a woman in Millbrae, California who had a fan that wasn't working because of bad circuit board components. Danny in Belgium diagnosed what the problem was, Howard in Minneapolis figured out what parts she should order on eBay…and another coach in the Bay Area got her soldering tools. Over two or three sessions, we taught her to fix her fan. The fan works!"  
Mui observes that the pandemic has increased interest in repair, out of necessity. "During the pandemic, people have not been able to get repair [personnel to come into their houses]," Mui explained. "Then, when you can call a repair place, they're backed up for months, but during that time, you still need a working dishwasher. Now, you can point your smartphone at that dishwasher and we can help you figure out what's wrong."  
At the very beginning of the pandemic, the word "shortage" was everywhere — people were concerned about running out of food, of toilet paper, of masks and ventilator parts, and in some places that became a real possibility. "The big lesson of the pandemic is that supply chains are very brittle," Mui observes. "The further you move away from the things you rely on, that creates a systemic risk. How do we return to a more local type of manufacturing paradigm, where things are designed, built, and repaired locally [and sheltered from that risk]?  My secret plan for world domination involves turning everyone into a local fixer."
This pandemic-produced marriage of the global and the hyperlocal is inspiring to Graziella Michel. "We've always done skills exchanges," she says. "Hundreds of years ago, maybe, it was just with our neighbors and family, But now we have the possibility to take it anywhere in the world, and that's a great opportunity."
Header image by Lachlan Donald, via Unsplash.
Article published under a CC BY-NC-ND 4.0 license.