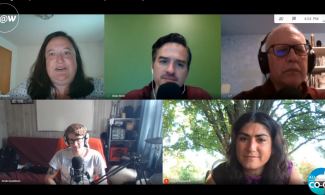 On All Things Co-op
Body paragraph
In this episode, Kevin, Cinar and Larry talk with two key figures at the Madison Cooperative Development Coalition (MCDC). Charity Schmidt is a cooperative development specialist at the University of Wisconsin Center for Cooperatives. Ruth Rohlich is a Business Development Specialist for the City of Madison, working in the Economic Development division. Among their many topics, they discuss how the city of Madison is approaching this cooperative initiative, the importance of community ecosystems, how entrenched legislation creates unforeseen barriers to cooperative ownership that must be changed, financing, and more.  
9:44 - MCDC's goals to address income inequality and racial disparities. Madison leadership's realizations that "just another jobs program" wouldn't work. How the program's ecosystem building with community partners who better know the on-the-ground needs is a critical part in addressing these disparities. (The mentioned "Race to Equity" report: https://racetoequity.net/)  
15:10 - A city employee with an MBA, Ruth describes her path from a cooperative skeptic to an advocate of this model's power for economic development.  
22:44 - With a background in community and labor organizing, Charity sees labor organizing and co-op development as parallel movements.  
28:36 - Successes and failures of the MCDC. Ruth, from the perspective of the city of Madison, shares how she's seen the flexibility of their program gives opportunities to adjust as needed, but the rigidity of some entrenched state legislation creates unforeseen barriers to some of their cooperative projects, particularly for disadvantaged communities. Charity's perspective from the cooperative development shares the realization that cooperatives on their own can't provide total support and other support structures are needed in tandem for their success.  
36:28 - Financing. Charity shares information about the MCDC's grant program. Ruth shares information about city loans, including smaller, no interest, no fee, community supported Kiva loans.  
45:55 - Home care in this country is failing as an economic model, and it is also a struggle for cooperatives. Ruth shares her perspectives on the broader issue of racism adds more to the existing barriers. Charity shares her perspectives on how determination fuels an ongoing commitment to finding a way to make this industry, and others, functional through cooperative development.  
50:52 - Lagging bureaucracy demonstrates the need for cooperative development to have a political element as well.  
Learn more about the Madison Cooperative Development Coalition on their website: http://www.mcdcmadison.org  
Learn more about the University of Wisconsin center for cooperatives https://uwcc.wisc.edu/  
Charity Schmidt is a cooperative development specialist at the University of Wisconsin Center for Cooperatives, providing technical assistance to start-up cooperatives and conversions and facilitating outreach efforts to cooperators and community-based organizations. She has published work ranging in topics from diversity in and access to service learning, sociology in action beyond the university, and the crisis facing bee colonies.  
Ruth Rohlich is a Business Development Specialist for the City of Madison, and works with businesses from around the world that are interested in moving to Madison and with businesses in Madison looking to grow or expand. She writes and manages many of the City's small business support programs including the Retail Improvement Grant Program, Healthy Retail Access Program, Entrepreneur and Small Business Development Resource Fund and the Worker Cooperative Enterprise Program. __________________________________________________________________________________________  
All Things Co-op is a show that explores everything co-op. From theoretical and philosophical conversations about political economy and the relations of production, to on-the-ground interviews with cooperative workers, All Things Co-op aims to appeal to a wide audience of activists, organizers, workers, and students to be better educated and motivated to create a new cooperative society.  
All Things Co-op is hosted by Democracy at Work (d@w). d@w produces media and live events to expose capitalism's systemic problems and to show how democratizing our workplaces solves them. We can do better than capitalism.  
Learn more:
www.democracyatwork.info/atc  
Support:
Become an ATC patron: www.patreon.com/allthingscoop  
Donate to d@w: www.democracyatwork.info/donate
Share this video!  
Connect: Facebook: www.facebook.com/allthingscoop/  
Twitter: twitter.com/democracyatwrk
Instagram: instagram.com/democracyatwrk