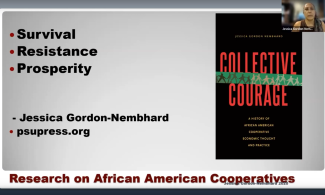 Body paragraph
This session is the fourth installment of the Black Labor, Solidarity Economy, and Movement Lawyering Series, Co-organized by the Workers' Rights institute and Julian Hill and hosted in collaboration with Coalition for Racial Equity and Democratic Economies (CREDE), the Georgetown Law Socialist Students Union, ONE DC, Malcolm X Grassroots Movement (MXGM), and Claudia Jones School for Political Education.
In this session, Jessica Gordon-Nembhard will discuss the history of African American mutual aid and cooperative economics, Black cooperative economic thought, the most prolific periods in the US African American Cooperative movement, and contemporary and previous examples of worker-owned cooperatives, lessons learned, and the way forward.
Lecture: Author of Collective Courage: A History of African American Cooperative Economic Thought and Practice (2014), and 2016 inductee into the U.S. Cooperative Hall of Fame, Jessica Gordon-Nembhard, Ph.D., is a Professor of Community Justice and Social Economic Development in the Department of Africana Studies, John Jay College, City University of NY. Dr. Gordon-Nembhard is a political economist specializing in cooperative economics, community economic development and community-based asset building, racial wealth inequality, solidarity economics, Black Political Economy, and community-based approaches to justice. She is co-editor with Ngina Chiteji of Wealth Accumulation and Communities of Color (University of Michigan Press 2006). She is a member of the Cooperative Economics Council of NCBA/CLUSA; the International Cooperative Alliance Committee on Co-operative Research; a Faculty Fellow, and a Mentor with the Institute for the Study of Employee Ownership and Profit Sharing at Rutgers University School of Management and Labor Relations; and an affiliate scholar with the Centre for the Study of Co-operatives (University of Saskatchewan, Canada). Gordon-Nembhard is also a past board member of the Association of Cooperative Educators; a past fellow with the Center on Race and Wealth at Howard University; and a member and past president of the National Economic Association. She is the proud mother of Stephen and Susan and the grandmother of Stephon, Hugo, Ismaél and Gisèle Nembhard.
Moderator: Julian Hill (they/he) is an abolitionist and solidarity economy lawyer, organizer, educator, and artist. A Clinical Teaching Fellow with Georgetown Law's Social Enterprise and Nonprofit Law Clinic, Julian was formerly a Supervising Attorney with TakeRoot Justice in NYC, advising dozens of worker cooperatives on a host of matters, and a Co-Chair of Black Youth Project (BYP) 100's New York City chapter. Julian is a Founder of the soon-to-be worker cooperative, Yo Hablo, which uses hip hop to teach Spanish. They earned their BA in Philosophy from Northwestern University and their JD from Harvard Law School.
This virtual event took place on July 26, 2022