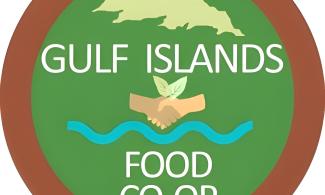 Body paragraph
cross-posted from Each For All
The Gulf Islands Food Co-op was created in 2018 to foster inter-island co-operation and develop new resources and practical supports for food producers and consumers on Galiano, Mayne, Pender and Saturna islands (the Southern Gulf Islands SGI).
The co-op's main goals are to help sustainably increase island food production, food security and resilience by encouraging the growing and purchasing of local food.
Its initiatives range from educational programs, such as "healthy soils and regenerative agriculture," to sharing of local resilient seeds, supporting an Indigenous Venison/Deer workshop offered by The Galiano Conservancy Association, bulk buying of farm supplies, setting up free tables for producers at local markets and supporting growers donating to local food banks.
Project Co-ordinator Nancy Goodman shares more about this unique community-service co-op and what it's like to be part of the food system on the islands.
Have a listen.