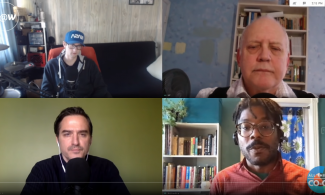 An All Things Co-op Interview
Body paragraph
All Things Co-op welcomes Esteban Kelly, the Executive Director for the US Federation of Worker Cooperatives for a fascinating glimpse into the work of USFWC, and his thoughts on both national and international strategies for growth in the cooperative movement.  
2:41 - Esteban gives more background to his origin story in getting involved with worker cooperatives.
9:10 - Esteban has been with the US Federation of Worker Cooperatives since its inception. He says USFWC works to build up their own base of economic power, as a trade association or chamber of commerce for co-op business that also happens to represent the workers in those business. They leverage that power to impact their visions for economic, racial, and social justice.
13:33 - Esteban describes his strategy to distinguish between education and training and their advocacy and organizing work. He says that organizing to meet people where they are at helps to build the foundations of strong alliances.
18:23 - "[USFWC is] the only national grassroots membership organization for worker owned cooperative business in this country and its not that weird. There are dozens of organizations that are structured in exactly the same way all over the word. In fact, we're probably the most recent organization to organize this way... The US and Canada are starting to show up." He describes how many other countries have a minister of cooperatives as cabinet level position, where the US does not, and how that means that USFWC works to fill that gap in support and analysis.
25:08 - Esteban shares what he has seen in the cooperative movement internationally that could be adopted here in the US. He says that the strongest ecosystems he's seen are the ones with more diverse access points to capital. He also says it's useful to see the different industries that have had successful scaling, citing the forestry industry and EMT cooperatives in Canada, the manufacturing industries in Argentina, the service sector social cooperatives in Italy. He says that UK is now looking to the US to understand our success with immigrants and refugees in cooperatives.
32:57 - How does the USFWC measure success? Esteban says growth, scale, impact, and working conditions, with a particular emphasis on the latter. The USFWC have tracked starting, entry-level wages in US cooperatives rise from around $15 to almost $20/hour in just a few years. Esteban also shares that he thinks an inhibitor to cooperative movement success in the US is the hostile society for solidarity, membership, dues paying and collaboration, driven by an individualist culture. He says we must get beyond this to build power.
43:57 - Esteban answers a question about the relationship between worker cooperative movement and union movement. He says there is no one formula for this relationship and doesn't believe there ever will be. Making new jobs, adapting the workforce to newer forms of work, improving conditions, pushing back against corporate power, electoral organizing, are all different functions that unions have played and things that cooperatives do as well.  
Esteban Kelly is the Executive Director for the US Federation of Worker Cooperatives, and is an important leader and creative force in solidarity economy and co-op movements. He has served on numerous boards including the USFWC, the US Solidarity Economy Network, the National Cooperative Business Association (NCBA-CLUSA), and the Cooperative Development Foundation (CDF). He is a co-founder of the cross-sector Philadelphia Area Cooperative Alliance (PACA), and recently worked at the New Economy Coalition as Development Director and then Staff Director. Learn more about the US Federation of Worker Cooperatives: https://www.usworker.coop/home/
---
 All Things Co-op is a show that explores everything co-op. From theoretical and philosophical conversations about political economy and the relations of production, to on-the-ground interviews with cooperative workers, All Things Co-op aims to appeal to a wide audience of activists, organizers, workers, and students to be better educated and motivated to create a new cooperative society.
All Things Co-op is hosted by Democracy at Work (d@w). d@w produces media and live events to expose capitalism's systemic problems and to show how democratizing our workplaces solves them. We can do better than capitalism.
Learn: https://www.democracyatwork.info/atc
Support:
Become an ATC patron: https://www.patreon.com/allthingscoop
Donate to d@w: https://www.democracyatwork.info/donate
Share this video!
Connect:
Facebook: https://www.facebook.com/allthingscoop/
Twitter: https://twitter.com/democracyatwrk
Instagram: https://instagram.com/democracyatwrk