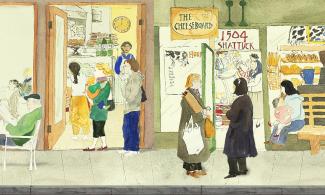 A Cooperative Story
Body paragraph
From the Cheese Board website:
The Cheese Board opened as a small cheese store in 1967. In 1971, the two original owners sold their business to their employees and created a 100% worker owned business of which they remained a part. The transition to a worker-owned and operated cooperative relied upon a shared work ethic, high standards, and the strong emotional connections among the group. Decisions were made, after much debate, either on the shift or at the monthly meetings. The new owners shared a belief that the collective process would organically create a truly democratic society.

Over time, we have grown in size and in the number of products we sell. We moved from our first storefront around the corner to our current home on Shattuck Avenue. The cheese store and bakery now features an espresso bar, we sell almost 400 different cheeses and an extensive selection of freshly baked breads and pastries. We have a pizzeria (a few doors down from the cheese store and bakery) that sells the pizza of the day, made from fresh ingredients, for lunch and dinner 5 days a week. Much of what we have done has come about by chance, by following our passion for food and with the support of our community. The belief that every voice is central has sustained us over the years. We have never wavered from the original vision of a democratic workplace. This commitment has made it possible to constantly reinvent ourselves, while remaining faithful to our political vision, and our belief in good, honest food.