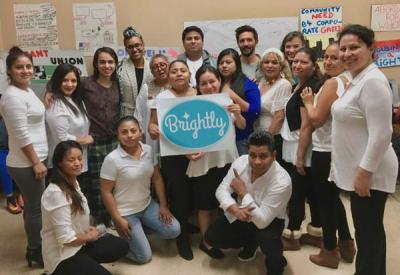 A few years ago, the Center for Family Life, a nonprofit social services organization in Brooklyn that incubates worker cooperatives, established one such cleaning cooperative, called Brightly. And now, they're relaunching the cooperative as a franchise network in an effort to establish more worker cooperatives and expand the reach of the organization outside the New York City area, according to Phyllis Robinson, CFL's "Coopportunity" coordinator.

In the years that Brightly has existed, it's proven successful, if small-scale. There are now two Brightly worker cooperatives operating in the New York City area: one in Brooklyn and one on Staten Island. Its several dozen worker-owners generally make around $21 per hour. Instead of having to fork over a large percentage of their take-home pay to a company like Handy, they decide collectively how much of their pay they want to leave in the cooperative for expenses, and how much they take home.

Robinson wants to see the cooperative model scale across the home-cleaning industry to help workers attain better pay and more control over their schedules. While worker cooperatives are still a very small segment of the overall economy, interest in the model and the number of cooperatives is growing. Key to that growth, Robinson says, is having support systems in place to help existing businesses make the switch to cooperatives, or to help cohorts of workers self organize into a coop.
Go to the GEO front page