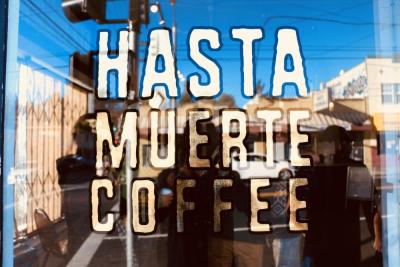 [J]ust a few months after Hasta Muerte Coffee opened its doors in a different location in Fruitvale, he and the other owners caught word through the internet that their landlord had put the building on the market. They had spent a year renovating the space on their own dime and making rent payments, and their landlord was about to sell the building. Their fate was once again uncertain.

"I cried a lot," Geraghty says. "I kept going back and forth from being like, 'we should just quit, this isn't worth it, we're obviously not going to get this, we don't have the money so why even try?' That was the hard end of it. The nice end of it was … our larger community really answered the call."

Through a raft of clever tactics, the worker-owners of Hasta Muerte were able to acquire the building in partnership with the Oakland Community Land Trust, one of over 200 specialized nonprofit entities around the country created to protect community control over land. While the community land trust concept has roots in agricultural land, most today focus on residential properties. With Hasta Muerte, Oakland Community Land Trust stumbled upon a community-based financing model it now plans to use for acquiring other commercial as well as cultural spaces on behalf of community groups and cooperatives in Oakland.
Go to the GEO front page