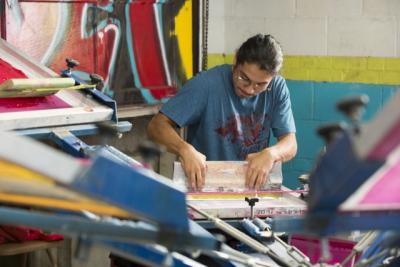 The good news is that cooperative businesses are not new in Detroit, and there's currently an increased effort to create more. 

The Detroit People's Food Co-op, a membership based cooperative, is in the final stages of planning before they break ground on a  brand new building in the North End. The Cooperation Group in Highland Park and The Center for Community Based Enterprise in Midtown are fully-equipped technical support service providers that help with cooperative business development. The recently founded Detroit Community Wealth Fund is dedicated to providing non-extractive loans to cooperative businesses in the city.

In Southwest Detroit, Grace In Action aspires to be a cooperative incubator, cultivating their collectives into fully functioning cooperative businesses. They recently incubated their first co-op, Cleaning In Action, a women-owned cleaning cooperative. The women had previously worked for temp agencies and now make a living wage.

Co-founder Maria Perez hopes her business will inspire others. "This co-op helps women in our neighborhood. If we tell others about it, the idea will catch on. I see that this will open doors for others, especially younger generations."
Go to the GEO front page