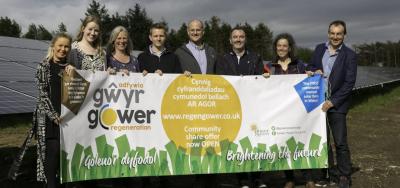 The Community Renewable Energy Project Award has been won by a Gower-based organisation, Gower Regeneration Ltd.

The award, sponsored by the Renewable Energy Association, is given to:"The most commendable sustainable electricity generation project undertaken by a community group across Wales and England."

The project, Wales's first community-owned solar farm, has 3,658 solar panels and is based on top of an old coal mine and next to a school.

It produces enough clean energy to power the equivalent of 300 homes, and all profits  – estimated at more than £500,000 through the 30-year life of the project – will be reinvested in other eco-projects and education about sustainable development.
Read the rest at Co-operative News
Go to the GEO front page