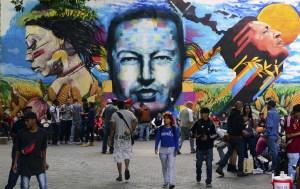 Statement from the International Committee for Peace, Justice and Dignity

The U.S. State Department, the oligarchy and the Venezuelan right, together with the regional and European right have not let up in their attempt to destroy the enormous achievements accomplished by the Bolivarian Revolution of Venezuela and the Government of Nicolas Maduro.

The main objective that drives them, constantly and permanently, is to put into practice various methods of war in order to take control of the vast natural resources of the country, especially oil. Since Chavez, all those resources have been put in the hands and stewardship of the Venezuelan people.

It is the first time in two hundred years of history that this has happened, thanks to the emancipatory and anti-imperialist efforts of Commander Hugo Chávez – a direction continued by the Government of Maduro. The oil income is now at the disposal of huge projects aimed at benefiting those who were always forgotten and humiliated; the people, workers, farmers, blacks and native people.
Read the rest at the International Committee for Peace, Justice and Dignity website
Go to the GEO front page