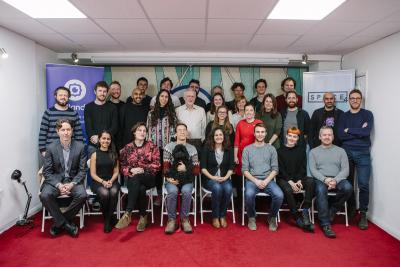 When Sion Whellens, a client services director from communications cooperative Calverts, met with Outlandish to help them craft a new way to do business in December 2015, he found Murphy and the other members were already operating as a co-operative. 

"Tech tends to bring together people with high level skill sets, so it's easier to establish equality," Whellens says. "Particularly, the way tech people think in terms of agile projects can be applied to governance. They do project management on Trello or Vimeo day in day out, so that kind of thinking is already familiar."

Outlandish based their organisational structure on the Enspiral Foundation, which started as a group of computer programmers in New Zealand who wanted to put more time and energy into making a positive social impact. Enspiral has grown into a range of ventures, all dedicated to using their time and energy to have a social impact.

[...]

Rather than partners or shareholders extracting profits from the company through huge salaries and dividends, Outlandish members are paid what they consider a fair rate. This ranges from £150 to £350 a day – much lower than other private tech companies – with surplus going into a fund that members then decide how to spend. In 2016, £5,000 of that surplus went into building the school cuts website.
Read the rest at The Independent
Go to the GEO front page