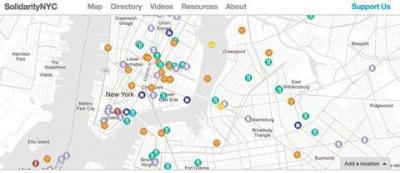 By Mira Luna, for Shareable.net
SolidarityNYC connects, supports, and promotes New York City's solidarity economy. I wanted to interview SolidarityNYC after I heard how astonishingly far they'd come in organizing their city.  I was co-conspirator of a similar group that for several years called itself Just Alternative Sustainable Economics - a regional grassroots economic network for the Bay Area area, emerging in part out of the Network of Bay Area Worker Cooperatives. Though we struggled to keep going with a few already overcommitted volunteers, the little effort we did put in seeded events, like the Festival of Grassroots Economics, fruitful relationships and innovative projects like theSustainable Economies Law Center. SolidarityNYC has done what we mostly dreamed of with careful intention and tenacious perserverance.
This is an exploration of their impressive model for other cities to learn from - whether they are sharing cities, solidarity cities, or regions of new economy like the Berkshires in Massachusetts.  In addition to this interview, I highly recommend you read their report -  "Growing a Resilient City: Possibilities for Collaboration in New York City's Solidarity Economy," which is full of brilliant, yet practical ideas for scaling up a local solidarity economy.