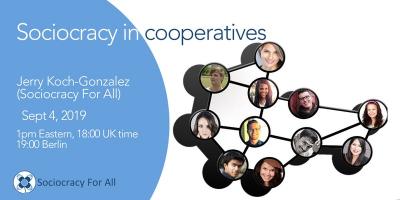 Sociocracy and cooperatives are a perfect fit - both value equality and equal voice as well as distributed ownership. Sociocracy offers a way to live those values in the way the cooperative runs itself. A way out of endless meetings, traditional hierachies and centralization of power.

Sociocracy has found its way into cooperatives in North America, South America and Europe. Maybe you have heard about it but would like understand better what the buzz is about? In this 1-hour event, you can hear Jerry Koch-Gonzalez summarize the basic concepts and examples of how it is used in cooperatives Jerry has supported as a consultant. After a brief presentation and case studies, there will be time to ask and answer questions. See whether sociocracy might be a good fit for you!

This event will be offered on zoom. You will receive the access link after registration.
Register for this on-line event at Eventbrite
Go to the GEO front page