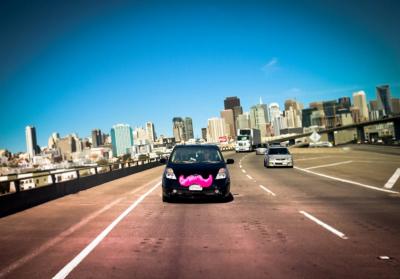 By Rebecca Burns, for In These Times  
Do companies like Lyft and Airbnb help democratize the economy?
Those cars with the pink mustaches? They may not be smiling for long, if some regulators get their way.
Last year year marked meteoric growth in the new "sharing economy"—a catch-all term for websites and apps that let people charge others for use of resources such as cars and rooms. Ride-sharing company Lyft saw a twentyfold increase in users of its signature mustachioed cars, and room-sharing platform Airbnbgained 6 million customers.
But 2013 also exposed the iffy legalities of "sharing," as ride-sharing services tangled with city regulators and taxi unions, and Airbnb faced off against New York State Attorney General Eric Schneiderman in what Fortune magazine called the "seminal legal dispute" for the burgeoning sharing economy. In October, Schneiderman subpoenaed Airbnb for information on its hosts, alleging that some are using the platform to operate de facto hotels. The company is fighting the order in court.
Proponents of the sharing economy bill it as a way to reduce consumption and create jobs, and say that the crackdown on Airbnb would harm New Yorkers just trying to pay their bills. But critics argue that beneath their feel-good veneer, sharing businesses are little more than a new way for corporations to circumvent regulations, rob city coffers and undercut unionized labor.
In These Times convened a discussion on the sharing conundrum with David Golumbia, assistant professor of English at Virginia Commonwealth University and author of The Cultural Logic of Computation, Neal Gorenflo, co-founder and publisher of Shareable Magazine, and the SolidarityNYC collective, which supports the growth of cooperatives in New York City.