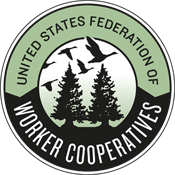 We are accepting proposals for the 2019 Eastern Conference for Workplace Democracy, which will be held in Baltimore, MD October 18-20th.

All proposals are due by Wednesday, July 31st. Proposals will be evaluated on a rolling basis, so get your proposal in early! Final programming decisions will be made by mid August. Our staff are happy to discuss your session proposal ideas - email conference@usworker.coop to get in touch.

The ECWD, founded in 2002, is a conference that builds awareness of worker-owned businesses while strengthening existing worker co-ops. For 17 years, the ECWD has forged relationships between democratically-owned businesses, labor institutions, and cooperative resource organizations to expand workplace democracy. The ECWD has been convened every two years in the Eastern United States, and was last hosted by Baltimore in 2011. This will be the first year that the program is organized directly by the US Federation of Worker Co-ops, this country's national grassroots membership organization for worker-owned cooperatives.

Please complete this survey in its entirety as it cannot be accessed or modified once submitted. We look forward to hearing from you and seeing you at the conference!

---

¡Estamos aceptando propuestas para la Conferencia del Este para la Democracia en el Trabajo (ECWD por sus siglas en inglés), el 18 al 20 de octubre de 2019 en Baltimore, Maryland!

Las propuestas de talleres se deben recibir a más tardar el miércoles 31 de julio. ¡Propuestas serán evaluadas continuamente, asi que mande su propuesta pronto! La toma de decisiones sobre el programa será resuelta a mediados de agosto. Nuestro personal está disponible para hablar sobre sus ideas para una propuesta de sesión - envíe correo electrónico a conference@usworker.coop para estar en contacto.

El ECWD, fundado en 2002, es una conferencia que busca concientizar al mundo sobre las cooperativas de trabajadores mientras que fortalezca las cooperativas de trabajadores existentes. Durante 17 años, el ECWD ha forjado relaciones entres negocios de propiedad democrática, instituciones de labor/sindicales, y organizaciones de apoyo para las cooperativas para crecer la democracia en el trabajo. El ECWD se presenta cada dos años en el este de los Estados Unidos, y la última vez que se presentó en Baltimore fue en 2011. Este año será la primera vez que el programa lo organiza directamente la Federación de Cooperativas de Trabajadores de EE.UU., la organización de membresía a nivel nacional para las cooperativas de trabajadores.

Por favor, complete este formulario de propuesta en su totalidad, ya que no se puede acceder o modificar después de ser enviado. ¡Esperamos con interés sus respuestas y el verle en el encuentro!
Go to the GEO front page