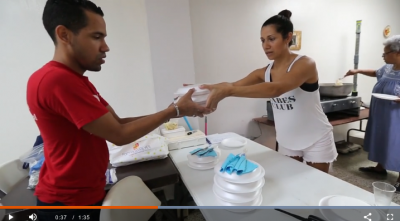 TRUJILLO ALTO, Puerto Rico — It's 10 minutes to noon, and Alexandra Rodriguez Rios has already cooked and delivered more than 60 lunch plates to residents in her co-op living community.

She's had a different menu every day since Hurricane Maria. It's nothing fancy, she says. It's what they call the "hurricane diet:" canned sausages, Spam, white rice, canned vegetables, beans.

But it is "guiso," meaning it's flavorful and well seasoned. And there's always enough for anyone who might walk through the glass doors of the activity center at the Cooperativa de Vivienda Ciudad Universitaria.
Read the rest at the Orlando Sentinel
Go to the GEO front page