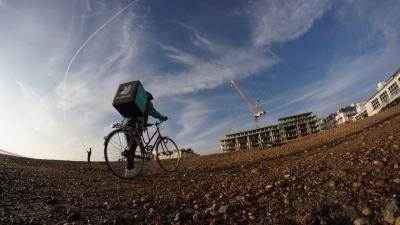 This collaborative culture fostered among organised couriers is the first step to be able to co-develop their own food delivery platforms. That is the idea behind "coopcycle.org", an open source food delivery app licensed under the peer-to-peer foundation and co-operatively managed by its developers and any riders who want to use it. A forum of food couriers from across Europe are planning to implement it in France and Germany, while riders in Spain are on the verge of launching their own cooperative version of the Deliveroo app in Barcelona.

These co-owned delivery platforms could offer a meaningful business alternative to Foodora, Deliveroo, Uber Eats and co where the profits of the company go to those who are actually "driving" it, and where workers can enjoy better working conditions, safe contracts, sick pay, holidays and above all, respect.  Co-ownership wouldn't just mean sharing the profits, it would also mean  democratic governance and accountability, as well as transparency on the use of workers' data, and the functions of the algorithms that dictate couriers' day to day work.

A cooperative business could also offer competitive prices. While Deliveroo charges an extortionate 30% to restaurants for each order, a cooperative model could reduce this charge once core costs are covered. For example, once an order reaches over £15 the cooperative has made enough to cover the rider's wage and other outgoings, meaning orders over that amount could become cheaper.
Read the rest at openDemocracy
Go to the GEO front page