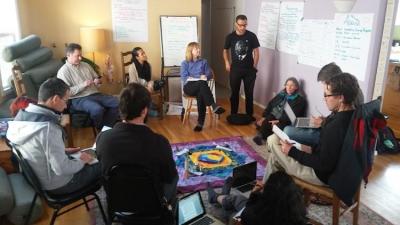 Since 2015, my colleagues at Shareable have been participating in a "shared gifting" process through the Thriving Resilient Communities Collaboratory (TRCC). Mostly funded by the Threshold Foundation, the TRCC is a national network of leaders working to boost local communities through participatory grantmaking.

The organization has created a council, made up of past grant recipients, along with representatives from both TRCC and the Threshold Foundation who work together to allocate community grants. Shareable's strategic partnership director Tom Llewellyn has been a member of this council since 2017. The council members meet to review all grant proposals and decide which projects should move to the second round. After another revision process, which involves collaboration and peer review, the council meets again to determine how to distribute funds from the shared pot.

"The entire process is very collaborative and encourages new partnerships between the organizations that are participating in the circle," says Llewellyn. "We've taken advantage of the peer review process and the projects we have received funding for have been greatly improved as a direct result."
Go to the GEO front page