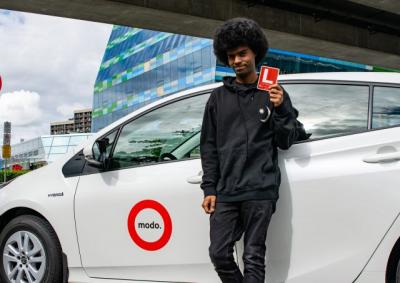 Member-owned co-operative Modo announces that, effective July 3rd the carsharing service will now allow drivers 16+ with an 'L' (Learner) designation to join as "Green Members". Modo is the first carsharing company in North America to open the door to learner drivers and hopes that this move will inspire the next generation to consider carsharing over car ownership.

As part of Modo's mandate, the two-way carsharing co-op aims to provide service that is as inclusive as possible and believes this exciting step forward will give families more freedom to choose a car-free lifestyle. And for those who own a car but would rather not spend the extra insurance premium required to cover new drivers, there's an affordability advantage as well.

With summer break upon us, it's a great time for parents and their teens to get some practice hours in with over 600 vehicles to choose from in more than 20 municipalities across the Lower Mainland, Vancouver Island and the Okanagan. The wide variety of vehicles will give student drivers the opportunity to learn to drive everything from compact cars to minivans and trucks.
Go to the GEO front page