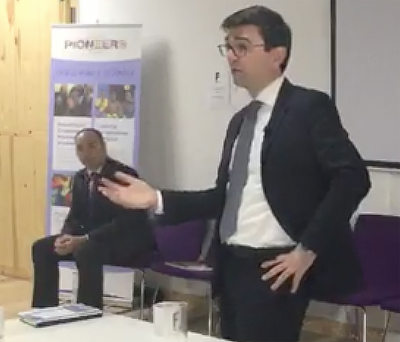 "The co-operative movement is at its best when it sees a crisis and comes forward with new thinking to raise standards," he said. "We could work together on a policy that is around taking some of those properties out of the private rented sector and developing new co-operative models.

"Maybe the Co-op Bank and credit unions could have a role to play in helping us devise these new solutions."

Hitting out at the "broken market in social care" which had been damaged by underfunding and outsourcing, Mr Burnham called for a "dramatic raising of standards and an end to profiteering".

He said it was already legal for service commissioners to take into account added or social value instead of simply going for the lowest bidder, adding: "We believe the not-for-profit sector needs to be be given a different status when it comes to commissioning."

The devolved authority had signed an accord with the voluntary and co-op sectors to move to longer-term core funding arrangements to support them as equal partners, he told delegates.
Read the rest at Co-operative News
Go to the GEO front page