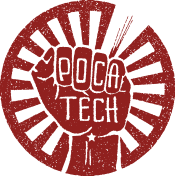 International Acupuncture Cooperative Opens Groundbreaking New Acupuncture School
Will Train the Next Generation of Community Acupuncture Practitioners
Portland, Oregon- The People's Organization of Community Acupuncture (POCA) today announced that they will open the doors of their brand new school, the POCA Technical Institute (POCA Tech), at the start of September. The school will make acupuncture education affordable the way POCA makes acupuncture treatment affordable.
POCA Tech's three-year curriculum culminates in a Master's Certificate in Acupuncture. Classes run in four-day weekend modules ten months out of the year, with a third year clinical component designed to be manageable for working students. After completing their Master's, POCA Tech's goal is for graduates to become licensed to work in, or open, POCA clinics with the organization's support. POCA Tech is licensed by HECC in Oregon and is pursuing accreditation with ACAOM.
"We are very excited to open the doors of POCA Tech this Fall. After so much hard work, we believe our goal of training the next generation of community acupuncturists is about to come to life," said Lisa Rohleder, a POCA co-founder. "Building and supporting this new wave of practitioners is vital to the growth of the community acupuncture movement. We treat a diverse range of patients and we look forward to training a new and diverse range of practitioners to serve our communities."
For more information contact:
Lisa Rohleder
media@pocacoop.com
503-453-5597
About POCA:
Nearly a decade ago, POCA's founders Lisa Rohleder and Skip Van Meter created a low cost, high volume community acupuncture model based on business and treatment styles as practiced in Asia. In setting up their first community acupuncture clinic, the founders asked what the barriers were to more people getting acupuncture and how acupuncturists could earn a sustainable income providing treatments to more people. The result was the community acupuncture model, whose foundation includes a re-imagining of what acupuncture is and proven systems that help community clinics run smoothly. Community acupuncture is rooted in the values of health, social justice, and affordable access to healthcare for all.
Go to the GEO front page