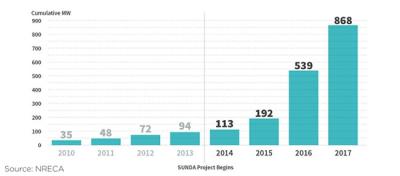 Electric cooperatives in the U.S. have vastly accelerated solar power installments. Today, they own or purchase more than nine times as much solar photovoltaic (PV) power as they did in 2013, a new report says.  

The report, "A Solar Revolution in Rural America," was prepared by the National Rural Electric Cooperative Association (NRECA), a national trade association representing more than 900 local electric cooperatives. Electric co-ops serve 42 million Americans across 56% of the nation's landscape, it noted. 

The dramatic increase in solar installations is pegged to NRECA's launch of the Solar Utility Network Deployment Acceleration (SUNDA) project in 2014. As part of that project, which leveraged funding from the U.S. Department of Energy, several electric co-ops developed models and resources aimed to integrate solar into their respective portfolios. It began as a partnership with 17 cooperatives to build 30 MW of solar in 10 states.
Read the rest at Power Magazine
Go to the GEO front page