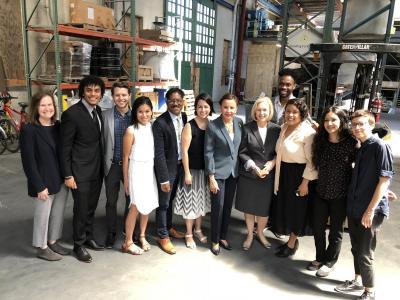 Employee-owned businesses offer a vital solution for the survival and success of small businesses. This legislation improves small business loan programs for employee-owned business concerns through the Small Business Administration.

The first federal level bipartisan legislation that highlights worker cooperatives, the Main Street Employee Ownership Act has just been signed into law. Driven by the efforts of U.S. Senator Kirsten Gillibrand in the Senate and Congresswoman Nydia Velázquez in the House of Representatives, this legislation will support small businesses that save jobs and invest in their workers and communities by transitioning to an employee-owned business form such as a cooperative (co-op) or an Employee Stock Ownership Plan (ESOP).

The Democracy at Work Institute, along with its affiliated organization the US Federation of Worker Cooperatives, played an educational role to inform the creation and development of this legislation, and is pleased to see the expansion of federal support for broad-based worker ownership.
Read the rest at the Democracy At Work Institute
Go to the GEO front page