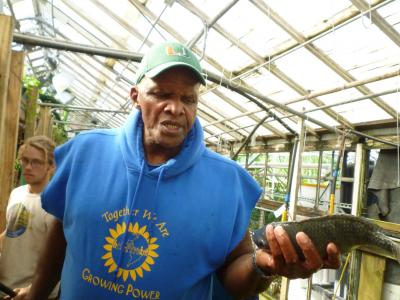 I had an amazing weekend learning about local sustainable food and cooperatives! So, you know, the best kind of weekend. Here's a rundown of what happened:
Growing Power
If you're not familiar with Growing Power, take a minute and browse their website. Food justice, intensive growing methods, bio-mimicry, working in a food desert... Growing Power's got it all. I was extremely fortunate that the day I happened to be in Milwaukee was, by complete coincidence, the one day in October that Will Allen, the founder and visionary of Growing Power, gives the tour personally.
I was extremely inspired by Will's talk and the extensive greenhouses, aquaponics systems, animal husbandry, and soil cultivation going on at Growing Power. Two things stood out to me in particular. First, Growing Power is over 20 years old. I first started hearing about Growing Power around 2010, and I had assumed they were a much newer organization. Knowing that they have been around for so long gives me hope for the projects I know about that are starting up now. Where will we be in 20 years? Probably almost as cool as Will Allen. Second, I appreciated the focus on doing farming in a low-cost way. Will and Danny (in the background of the picture above) focused a lot on the cost and time it takes to put in an individual aquaponics system, and played up how doable these projects are, even in someone's back yard or garage. There's hope for all of us!