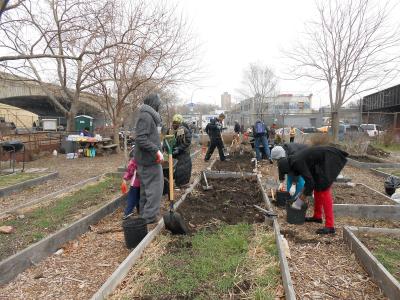 Within New York City, many low-income neighborhoods home to people of color are polluted with an abundance of fast-food restaurants. Healthy food options are limited and often an overpriced luxury in areas like East New York or South Jamaica; instead, they seem to be reserved for the white, wealthier, and highly-gentrified parts of the city. If we want affordable, fresh, non-chemical-ridden produce, we often have to travel outside of our boroughs. Yet, some tenacious people are working to change this. Residents are coming together to establish community gardens and farms, and taking ownership of what food they have access too.

These garden spaces are more than just a place to grow food; they're a safe haven. Somewhere that residents can foster community, create a network of support, and start to address the injustices crippling their neighborhoods: gentrification, lack of employment, police brutality, and so much more. These gardens promote agency and self sustainability; they are hotbeds for organizing and engendering political power.

The FADER spoke to three woman of color working out of gardens in New York — the Bronx and Mount Vernon — about how they are mobilizing against the system and uplifting their communities in the process.

 
Go to the GEO front page