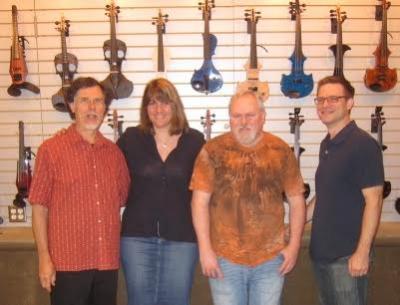 [O]n Friday, May 13th, Electric Violin Shop founder Blaise Kielar sold his ownership interest in the business to three of our long-time employees–Chris Guin, Duncan Monserud and Susie Sneeringer–who restructured EVS into a worker-owned cooperative...

As employees it's exciting not only to take ownership but also to be able to extend cooperative owner-membership to new employees as our company expands. We are very appreciative of several entities and individuals who helped make the worker-owned cooperative conversion a reality…

Management consultant Anne Claire Broughton of Broughton Consulting, LLC, who suggested the idea of a co-op conversion when Blaise came to her looking for help with his transition.

Thomas Beckett, co-executive director at Carolina Common Enterprise, a non-profit that assists in the startup or expansion of cooperatively-owned businesses, was instrumental in guiding the early co-op formation and connecting us with lenders.
Read the rest on the Electric Violin Shop blog
Go to the GEO front page