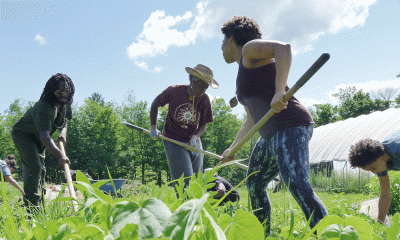 Last month, Dallas Robinson received an email from someone she didn't know, asking if she would be open to receiving a large sum of money—with no strings attached. For once, it wasn't spam. She hit reply.

Robinson is a beginning farmer with experience in organic agriculture, and has had plans to establish the Harriet Tubman Freedom Farm on 10 acres of family land near her home in Rocky Mount, North Carolina. Located in an area where the poverty rate hovers at nearly 20 percent, according to census data, and where both food insecurity and obesity rates are even higher, the farm will focus on serving the needs of the surrounding community by producing vegetables, herbs, and mushrooms.

The gift from the stranger arrived thanks to a new online map, the Black-Indigenous Farmers Reparations Map, a project to promote "people-to-people" reparations.

Robinson's project was the first to be fully funded, says Leah Penniman of Soul Fire Farm, which created the map. Penniman credits Viviana Moreno, a farmer from Chicago, for suggesting the idea.

"This past summer at our Black and Latinx Farmers Immersion program, we were all talking about two farms given by White people to farmers of color as examples of reparations and restoration, and Viviana said we need more of this people-to-people giving," she says. Moreno's own Catatumbo Cooperative Farm is listed on the map, and as a fellow graduate of the program, Robinson was invited to list her farm. The map now includes more than 40 projects, which are all directly connected to farming organizations led by people of color.
Read the rest at YES! Magazine
Go to the GEO front page