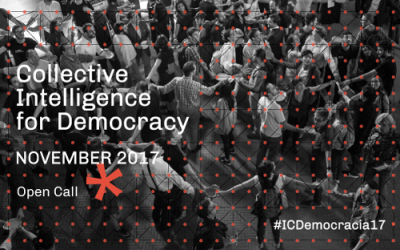 This is the call for projects of  the international workshop Collective Intelligence for Democracy from November 3th to November 18th. Come with us to have two weeks of collaborative work, of multidisciplinary teams around projects related to commons, oriented democracy citizen participation and the tools and methodologies that facilitate these processes.

We need new tools to help us move towards real democracy using the possibilities offered by the new network technologies. The democratic cities of the future demand new technologies to enable us to undertake distributed forms of political action and collaborative decision-making, in order to achieve a new commons oriented democracy paradigm. To this end the Medialab-Prado Collective Intelligence Laboratory for Democratic Participation invites people around all the world to Madrid, to think together and develop new hybrid -digital and face to face- mechanisms that address challenges relating to democratic participation: collaborative filtering, deliberation and discussion, decision-making, offline-online flow, crowdlaw, etc.

 

We call on hackers, activists, politicians, programmers, scholars, designers and any other person with an interest in distributed democracy, bottom up processes and participation technologies. Our aim is to create new hybrid -digital and face to face- prototypes that facilitate and open new paths to direct democratic participation. We value initiatives based on reconstructing existing developments, hacking digital open-source platforms to give them new uses and even designing participation processes using existing tools or face to face dynamics. Designs and even code development from scratch will also be considered. We want these initiatives to be able to be experienced by users in some sort of real way, having the opportunity of testing them in Madrid city, a place where participation is the new common ground. We want ideas and designs but we also want to experiment with them in the citizen laboratory in real time to assess the feasibility of the proposals.

 

All expenses will be paid for the projects selected for one person for a period of two weeks in Madrid (travels, hotel and meals). Up to 8 collaborators shall be selected for each project, to help create a work team to assist with the thought process and design of the desired prototype based on the original project idea, and to cover all the needs required in order to develop the desired prototype. In addition, the entire team shall have access to technical professional programming and design support during this time, and also to the advice of the workshop mentors.

 

Collaborators will have all expenses (accommodation, meals) covered in Madrid. Trips are not included.