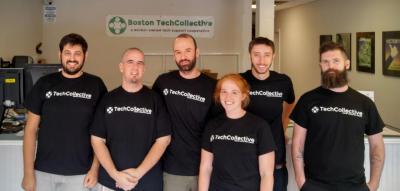 Boston TechCollective is a worker-owned co-op offering enterprise-grade technical support to small businesses & non-profits. As a co-op, each of our employees becomes an owner with an equal stake and voice in the company. Unlike traditional for-profit businesses, our focus is on building a sustainable business for all of our employees. Worker-owned cooperatives tend to create long-term stable jobs, sustainable business practices, and linkages among different parts of the social economy, both locally and globally.

The original TechCollective in San Francisco was formed in late 2006, based on a simple, powerful idea: that tech experts, rather than managers, should be the ones in charge of a tech support enterprise! In 2012 one of our members moved to Boston and formed a separate team on the east coast. Both co-ops share resources and are founding members of the Tech Cooperative Federation.

Last year, we paid off our first Kiva loan. Thanks to your help, we were able to hire a full time staff member! Brian has been working with us for over two years, and is now a full owner of the business. We're ready to expand again, which is why we're asking for your help!
Read more and support the co-op at Kiva
Go to the GEO front page