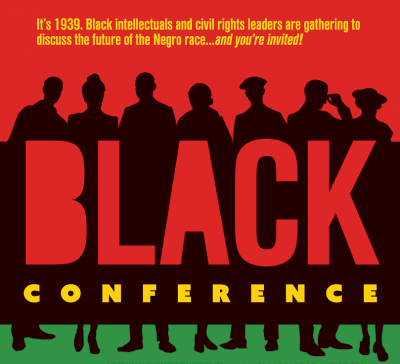 The Black Conference Touring Company  is a cooperative of performing artists engaging audiences through interactive performances designed to empower communities to take collective action.

Black Conference is a 360◦ theater experience set in 1939, during the opening ceremonies of a civil rights conference...

Lifting People out of Poverty
We're raising money to take this play...to low-income communities across the country to share a message about the power of collective community action to lift people out of poverty. We're raising enough to travel to five locations, Detroit is at the top of the list. In each case funds from the campaign will pay half the cost and the community we visit will be responsible for raising the other half, requiring commitment from that community, and some of the grassroots effort required for these strategies to work.
Launching the Tour at the 2018 Worker Cooperative National Conference
From September 14 – 16, 2018 the 20-member company of Black Conference will be in Los Angeles presenting at the 2018 Worker Cooperative National Conference that will be held at Los Angeles Trade Tech College...
Read the rest and support The Black Conference Touring Company at GoFundMe
Go to the GEO front page