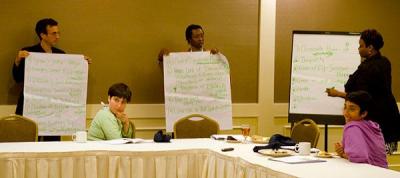 Environmental justice leaders strongly felt that a lack of movement alignment contributed to Waxman-Markey's failure, which informed their response to the Clean Power Plan, conceived as an EPA rule after the inability to pass legislation at the federal level. These leaders understood the rule's historic significance and appreciated its focus on energy efficiency and renewable energy, but they also understood, as members of frontline communities themselves, that moving the implementation of cap-and-trade to the state level meant that their communities would likely continue to bear the brunt of these tradeoffs—which were likely to increase with the new rule.

Quickly, they moved to involve themselves in the rulemaking process. They informed then–EPA Director Gina McCarthy of their concern that the CPP did not require states to address equity or ensure a community engagement process and offered concrete equity upgrades to the rule. Further, they used the recommendation development process to educate and engage environmental justice communities across the United States. Environmental justice leaders also hosted conversations "aimed at encouraging green NGOs that were receptive to incorporate their recommendations…in their comments to the EPA."

...

These leaders still oppose the Plan's market-based mechanisms, which the green NGOs still support, albeit with environmental justice upgrades. Nevertheless, the alignment achieved through relationship-building has continued and remains a solid foundation for future work.
Read the rest at Nonprofit Quarterly
Go to the GEO front page