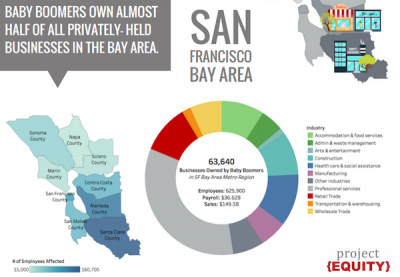 There's been a lot of talk about where the Baby Boomer generation will live as they age. Several interesting, sharing-based 

housing alternatives

 such cohousing and senior villages have emerged as potential options. But what about all the businesses that Baby Boomers own? What happens to those companies when they retire? 

 

Project Equity, a nonprofit based in Oakland, California, wants to help those businesses transition to a worker-owned model. According to the organization, "The vast majority (over 85 percent) of business owners do not have a succession plan in place, and increasingly, many are finding it hard to find a buyer when they are ready to sell." This means they'll either fold or fall in the hands of larger companies. 

The group, which was co-founded by Alison Lingane and Hilary Abell in 2014, wants businesses to avoid that fate by turning them into cooperatives. "Good decisions are built into worker cooperatives from the inside out," Lingane told LIFT Economy.
Go to the GEO front page