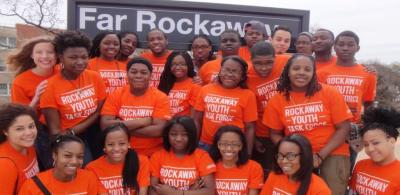 In the fall of 2012, when hurricane Sandy made landfall in the Rockaway peninsula in Queens, New York, the Rockaway Youth Task Force (RYTF) was ready to lead rescue and recovery efforts. Remarkably, the volunteer group was less than a year old. But members of this youth-led task force were reportedly among the most efficient responders to the crisis that followed Sandy.

The group was ready because earlier that year, Milan Taylor, the 21-year-old founder of RYTF, and friends, started mobilizing young people in Rockaway's neighborhoods to get them more involved in local politics and civic life.

Taylor had been appointed to a community board in 2010 and the lack of representation of people his age unsettled him. There were many problems such as inequity in schools, discriminatory practices in the criminal justice system, and low voter turnout in Rockaway that needed young people to engage and lead solutions, Taylor said. Far Rockaway in the Rockaway peninsula is also a federally-labelled food desert. An entire generation of future leaders needed nurturing.
Go to the GEO front page