Body paragraph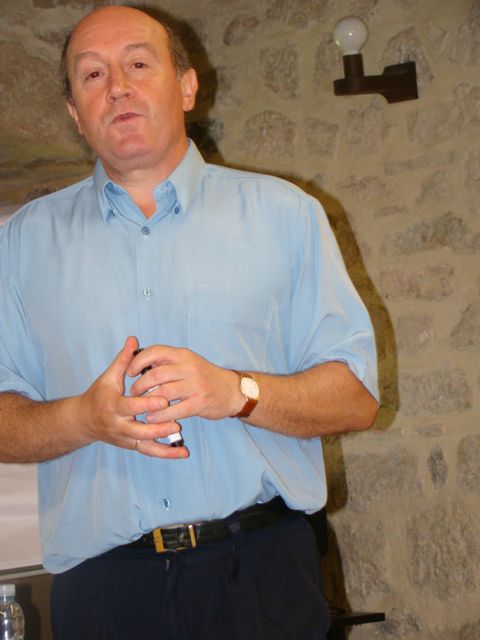 Jose Luis Lafuente, Mondragon's Corporate Management Model specialist
Some things speak for themselves:
"Mondragon Corporacion Cooperativa or the Mondragon Co-operative Corporation (MCC) is a business-based socioeconomic initiative with deep roots in the Basque Country, created for and by people and inspired by the Basic Principles of our Co-operative Experience.  It is firmly committed to the environment, competitive improvement and customer satisfaction in order to generate wealth in society through business development and the creation of, preferably co-operative employment which:
Is based on a firm commitment to solidarity and uses democratic methods for organization and management.
Fosters participation and the involvement of people in the management, profits and ownership of their companies, developing a shared project which unites social, business and personal progress.
Fosters training and innovation through the development of human and technological skills, applying its own Management Model aimed at helping companies become market leaders and fostering Co-operation." (emphasis in original) --approved by the 7th Congress 26 May 1999, and remains in force to this day.
When was the last time that you've seen - or have you ever seen? - a mission statement like that, or even similar?  I like the description as a "socioeconomic initiative" - not simply a money-making enterprise.  Twelve(!) years ago when their Congress adopted this, they were committed to preserving the environment.  
In 2004 when I was working toward my MBA at Southern New Hampshire University, the environment was an "external factor" that most businesses paid little attention too.  "Corporate social responsibility" was just starting to become a big thing and some companies were beginning to see how contributing money to environmental and social causes and allowing their workers to volunteer at social organizations on company time really helped their bottom line - but few, I'm sure were at this level.  Let's be clear:  Mondragon is about making money, creating quality products and creating jobs, but not at the expense of the workers, or the environment. 
Listening to Jose Luis Lafuente, an engineer and Mondragon's quality manager, you really realize that Mondragon's has this whole cooperation thing down to a science.  Many groups in the U.S. are struggling with various aspects of how to successfully operate a cooperative business.  Mondragon has been at this for 56 years. 
During the study tour on Wednesday morning, I'd been impressed and excited about Saiolan.  Adding Lafuente's presentation on top of that made my eyes mist, and I was overcome with a real sense of gratitude that I was able to be in a classroom learing this information, thanks to groups like the Ujamaa Collective and Ralph K. Morris Foundation, and friends and supporters. 
Mondragon has paved the way for the advancement of humanity, having worked through many issues, and here they were enthusiastically and proudly sharing their knowledge and experience with us.  
It hit me that we in the U.S. do not have to waste time trying to reinvent the wheel.  We can learn in a concrete way from the Mondragon experience (not just being "inspired" by them), to concretely apply what we can to our own situations, and continuing to evolve better ways to work, live, learn and teach.  This CMM that Mondragon pioneered is in use by 85,000 Mondragon cooperative employees in 120 cooperatives. Mondragon's revenue in 2009 was 14.9 billion Euros, or more than $20 billion. 
What was so special to me was evidence that Mondragon was serious about the highest quality products and services, good management, being competitive and doing it within the framework of cooperation. 
"Our philosophy are cooperative principles," Lafuente told us.  "Our principles are not to earn money for investors, but to create jobs in the area and create a quality of life."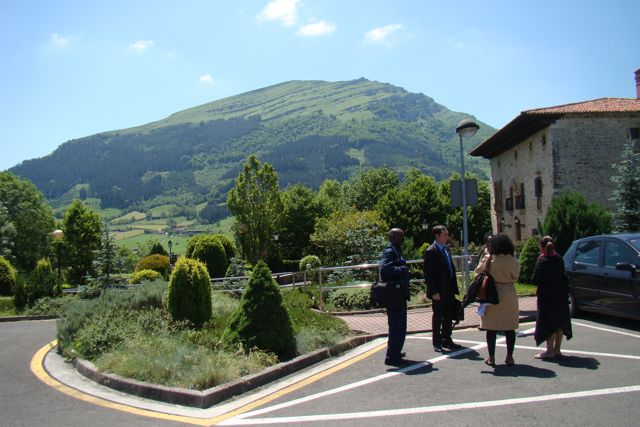 Our group enters Otalora, Mondrogon's training center. They have two buildings which were palaces in the 13th century. 
The impressive mountain, Kurtzeberri, was a powerfully captivating backdrop.
Unlike most other cooperatives which has seven principles, Mondragon has 10 basic cooperative principles: 
1.       Education (its core-education of members, leaders and youth)
2.       Sovereignty of Labor (the principal force in the transformation of nature, society and human beings)
3.       Instrumental and Subordinated Nature of Capital (Money is important, but the cooperative is more important) 
4.       Democratic Organization (all workers are equal in rights to knowledge, property and self-development)
5.       Open Admission (no discrimination, but everyone must respect its constitution)
6.       Participation in Management (the employees self manage)
7.       Wage Solidarity (sufficient payment and in line with same sector salaried employees)
8.       Inter-cooperation (cooperation among their cooperatives, with other Basque cooperatives and those in Spain, Europe and the rest of the world)
9.       Social Transformation (reinvestment in creating new cooperative jobs, community development initiatives, cooperation with other Basque economic and social institutions and collaboration to revitalize the Basque language and culture)
10.      Universal Nature - "The Mondragon Co-operative Experience, as an expression of its universal vocation, declares its solidarity with all those who work for economic democracy in the sphere of the ?Social Economy', echoing the objectives of Peace, Justice and Development of the International Co-operative Movement."  (Can't say it better than that!)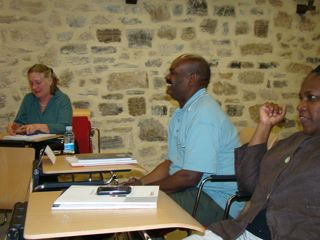 Chris Clamp, Sequane Lawrence and wife Teresa Prim during class 
Mondragon started off using European models of quality  -- the European Foundation for Quality Management Excellence Model that established guidelines for competitiveness.  Mondragon wanted to connect with other organizations to "to show we are excellent." Lafuente said.  
The Mondragon Cooperative Corporation was formed in 1991, though its first co-op, Fagor, started in 1955.  In 1996 MCC published their first Corporate Management model rooted in the European quality standards.  But then they wanted tools to be connected with their philosophy of cooperation and which could be used for their co-ops and associate companies.  "Some guidelines can't be checked with standard tools," Lafuente said.  "The tools have to be connected with the philosophy."  
The process to develop their own model would have 20-30 tools, and some of their 120 cooperatives would be satisfied with then, and others not.  It took MCC five years to write their own management model with their own indicators or tools to measure success.  The CMM that Mondragon settled on allows each co-op to selects its own indicators.  
"The model started from Basque principles," Lafuente said.  "The first dimension of the model is People in Cooperatives. That's most important." 
What is "People in Cooperatives" and why is it so important?  
This, the first dimension of their unique model, is the concept of people working in teams with a process that links personal development to team progress and an understanding of the collective good.  These people - the workers - are "dedicated co-owners" who own their labor and the fruits of their labor.  
Wrap your mind around that for a moment.  
This idea is a little foreign to us in the U.S.   What the MCC is teaching is that as workers, we're not an expendable "tool" or resource to make someone else some obscene money.  Those who work get the fruit of their labor; not those who have the the money get the fruit of your labor.  And as a worker, a team member, you know that your participation, has a direct bearing on the success of the team, the work, the product, the ability to make money.  Each person knows what part they play, and each is valued for their contribution.  
"We are a participative organization," said Lafuente.  "The workers have the power."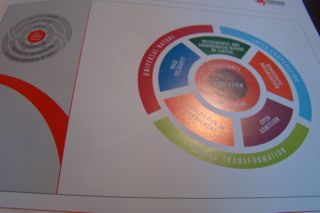 A diagram showing education and sovereignty of labor at the core of MCC's basic principles.
As a participatory organization, the workers must develop self-management.  Do you get this?  You don't necessarily need a "boss" or manager to make sure you are doing your job-though MCC does have managers.  You are doing your job because you want to do your job, you are advancing, you are working in a team with others who want to excel.  You are looking at the financial reports every month, so you know what kind of shape the company is in.  You share in the profits and help to decide how that money is distributed.  This is the participative organization aspect of their model, a second dimension of the model. 
In our tour of the manufacturing cooperative Fagor on Monday, we saw the section where teams have their own process maps, ordering forms, checklists, health and safety reports, calendars and other documents. Each team has a budget, orders its own parts and is responsible for quality control. The teams -- people in coorperatives -- drive the whole corporate management model.
Another dimension of the Corporate Management Model is the Joint Project, another way to have each worker involved in innovating.  All cooperatives have to have their mission, vision, a "desirable future" and shared values.  In conjunction with another co-op, they explore alternative opportunities to facilitate mutual interests and their own strategic development.  
Every four years the two co-ops are to develop one new expectation taking into account the market.  They development a strategic perspective or approach, development an annual plan and implement it.  Once a month, they check to see if they are on target.  Their model can be simplified to Plan Do Check Act! 
"We try to identify the contribution of each person in this plan," Lafuente said.  
Most managers meet every two months and assess their progress.  Lafuente trains and certifies assessors.    
"This is ideal," he said. "Not all co-ops are doing this every two years." 
The Joint Project seems to be another way that Mondragon fosters innovation.  Workers are involved in not only creating an "excellent company," but making sure they are competitive on the world market.  
"In 10 to 15 years companies will be more global," Lafuente said.  "If we don't like the global thing we will disappear.  We want to be here creating jobs." 
Another great thing about the CMM:   If you as a worker disagrees with what is you  can take it do the Assembly.  
The fourth dimension socio-entrepreneurial results - how to measure the success of the model in profitability, customer focus, development innovation, people in cooperation and social engagement.  Each co-op measures personal satisfaction of their workers, the number of accidents, leadership and educational development  the perception of the company, allocation of financial resources (including to Basque cultural projects) and environmental management.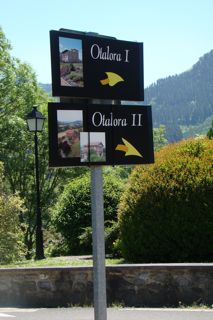 Lafuente summed it all up with the statement: 
"We are here as part of social transformation." 
Imagine a job where you get to give input in how things are done and your contribution ("two cents"!) is not only valued but expected, where you can disagree with your supervisor or team, where you are expected to be innovative, where you share in the profits which also go to help create more jobs, cooperatives and the furtherance of culture?  Imagine a job where the workers have the power. 
One point that Lafuente made which had also been echoed by Lezamiz probably in response to criticism of Mondragon by some observers for creating manufacturing plants in other parts of the world which were not cooperative.  
"We are not going to develop cooperatives in the world," Lafuente stated.  "We are going to preserve jobs here. "  He added:  "Maybe in the future." 
Lafuente said Mondragon cannot go into another country and try to create cooperatives in the beginning, a point also made by Lezamiz, due to cultural differences, including workers' unfamiliarity with cooperatives.  In addition, MCC's priority is creating jobs for the Basque people.